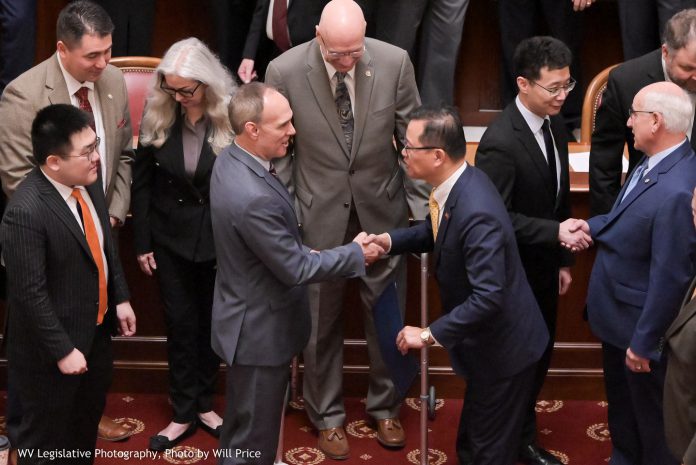 The Senate Convened at 11:00 AM today to discuss the passage of five bills, one of which originated in the House.
HB 4042 states that agencies exempt from state purchasing requirements adopt rules regarding purchasing procedures. The Senate requests the House to concur before it is sent to the governor.
SB 482 was passed, which removes the requirement that an individual have a permit to store a handgun in their vehicle on school property.
SB 620 authorizes the Division of Corrections and Rehabilitation to approve home plans for inmates. The commissioner is to establish a nonviolent offense parole program, and to create the criteria for eligibility for such a program.
SB 625 creates a one-day annual license to allow for the charitable auctions of rare or antique sealed liquors in private clubs, so long as other code sections regarding the sale of alcohol are not violated.
SB 629 clarifies alcohol volume percentage for certain wines. The bill clarifies that wine can be sold by a wine specialty shop for consumption off-premises only except where tasting and sampling have been permitted. The bill also removes the bonding requirement for suppliers and distributors, and continues the penalties for a distributor or supplier who does not pay taxes.
Senate bills 716-725 were introduced and referred to the appropriate committees.
The Senate also adopted Resolution 32, designating February 6, 2020 as Veterans' Visibility Day at the Legislature. Resolution 33 was adopted as well, reaffirming the sister-state relationship between West Virginia and Taiwan. Two recesses were held for the presentation of these resolutions.
The Senate is adjourned until 11:00 Am tomorrow.
The Senate Health and Human Resources Committee will meet at 1:00 PM in room 451M.
The Senate Committee on Energy, Industry and Mining will meet at 1:00 PM today on room 208W.
The Senate Education Committee will meet at 2:00 PM in room 451M.
The Senate Committee on Government Organization will meet at 2:00 PM in room 208W.
The Senate Judiciary Committee will meet at 3:00 PM in room 208W.
The Senate Finance Committee will meet at 3:00 PM in room 451M.