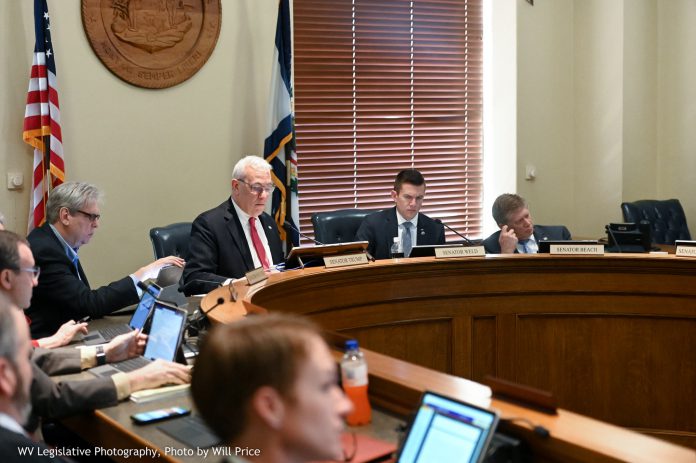 The Senate Judiciary Committee met at 3:00 p.m. on Wednesday and debated on Senate bill 38. This bill requires schools to provide an elective course to study the Hebrew Scriptures or the Bible as literature. The bill currently provides that the student may choose their translation of these texts and requires federal and state laws regarding neutrality to be followed.
The committee was very divided on this issue. Some voiced support for the bill, stating that this would be an objective, informational course that discusses literature and symbolism that is present in American culture and other influential literary works. Others were opposed, stating that this could create religious conflicts and tension within schools.
A representative from the West Virginia Department of Education answered questions from the committee. Senator Stephen Baldwin, D-Greenbrier, asked the representative if any county can offer an elective such as this. The representative said that yes, this was permitted, and there were currently two courses offered in certain counties. Some members of the committee believed that this was substantial in fulfilling the purpose of the bill, while others argued that further action was necessary to better implement such a curriculum in schools.
A rabbi and representative of a synagogue in Charleston voiced concerns about the bill. He stated that the bill would be potentially offensive to Jewish and non-Christian individuals, and that language present within the bill, as well as certain translations of these texts, carry offensive terms.
A video presentation was shown of Dr. William Jayne, a professor from California who teaches a similar course. Jayne was a guest of the Education Committee on February 6th, where he shared his support for the bill in person. In this video, Jayne stated that the Bible is very influential in Western literature and that it is likely the most influential book in the United States, and it was important for students to learn it.
A representative of the Islamic Association of West Virginia expressed concerns following the presentation. She said that she does not see this as a neutral bill, and that such a program excludes other religions. She stated also that it creates the mentality that the religions represented by the bill are the adopted ideology of the nation, excluding the influence of other belief systems in America.
The policy director for the ACLU also offered a perspective on the bill, and said he advised against it. He stated that, while the bill's language was constitutionally sound, there are risks. "Even very well-designed programs, when individual teachers make comments, could stray from constitutionality," he said.
Senator Baldwin proposed a strike-and-insert amendment that provided that, instead of a class exclusively studying the Bible, the bill would provide the option to create a course either studying a specific sacred or religious text, or a comparative course on world religions. The amendment was adopted, and the committee advanced the bill.