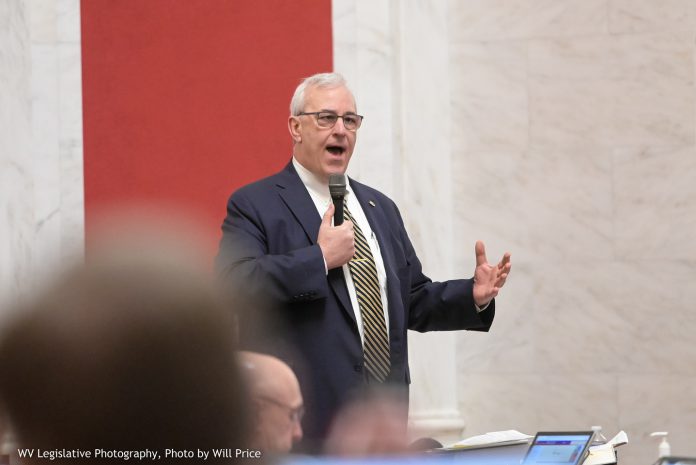 The Senate met at 11:00 AM today and discussed Senate Joint Resolution 7,which would create the "Preserving the Separation of Powers Amendment" to West Virginia's State Constitution. The amendment would dictate that the courts would have no authority to interfere with legislative proceedings.
The resolution was presented by Senator Charles S. Trump IV, R-Morgan, who yielded to questions and discussion by the Senate. Senator Trump addressed concerns about the constitutionality of the amendment and whether this resolution would interfere with the checks and balances of state government. Trump assured the Senate that the resolution would not interfere with judicial review, and the purpose of the resolution is to avoid judicial tyranny.
Other members of the Senate expressed disapproval for the amendment, raising some concerns about the safety of the State Constitution and legislative proceedings involving the courts.
20 members voted in favor of the amendment and 13 voted against it. The resolution was rejected because its adoption did not receive more than 2/3 of the votes.
10 bills were passed during today's floor session.
Legislation was competed for House bill 4091, which allows for expedited oil and gas well permitting upon payment of fees.
The Senate also passed House bill 4393, which creates criminal penalties for asphyxiation and suffocation, and adds the terms to the definition of strangulation. The Senate requests the House to concur before advancing the bill to the governor.
Senate bills 190, 300, 308, 316, 544, 551 and 560 were passed and will advance to the House.
The Senate adopted Resolution 30, designating February 5, 2020 as Tucker County Day. Resolution 31 was also adopted, designating today as Cancer Survivorship Day. Two brief recesses were held for the presentations of these resolutions.
Senate bills 699-715 were introduced and referred to the appropriate committees.
The Senate is adjourned until 11:00 AM tomorrow.
The Senate Committee on Economic Development will meet at 1:30 PM in room 208W.
The Senate Pensions Committee will meet at 2:00 PM in room 451M.
The Senate Committee on Agriculture and Rural Development will meet at 2:00 Pm in room 208W.
The Senate Judiciary Committee will meet at 3:00 PM today in room 208W.
The Senate Select Committee on Children and Families will meet tomorrow at 9:30 AM