The House amended Senate Bill 3001 today. The primary amendment is the House's "strike and insert" amendment of the Senate's bill.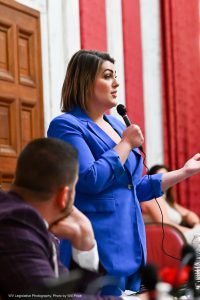 The House's amended Senate Bill 3001 does the following:
Provides an adoption tax credit
Defines unborn child and provides an unborn child tax credit
Provides early intervention services for adopted children, such as Birth to Three, Right from the Start, and Drug-Free Moms and Babies
Allows for an unemancipated minor to receive contraceptives without a prescription with guardian consent
Requires medical insurance, including PEIA, to cover tubal ligations and vasectomies without prior authorization or long waiting periods
Allows a pregnant mother to seek child support for her unborn child for up to the total cost of her pregnancy medical expenses
Enables child welfare multidisciplinary treatment teams to meet monthly and adds to the teams a managed care case coordinator, and child-placing agency case coordinator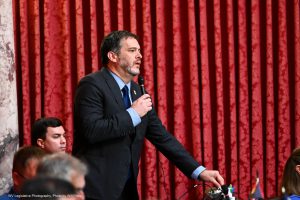 Several amendments to the primary (strike & insert) amendment were adopted.
Delegate Steele's amendment requires a petition to be filed for court-ordered paternity designation and an allocation of custodial responsibility, child support, decision-making authority, and visitation. A petition may not be heard by the court if the petitioner is found to be abusive, neglectful, or has abandoned the child named in the petition. If it is found the child in the petition was conceived as the result of a sexual offense or incestuous relationship, then the offending party shall be denied any and all allocation of custodial responsibility, decision-making authority, visitation or contact between the offending party and child. The court may still order the offending party to pay child support.
Delegate Keaton's amendment adds mental health services expenses to the list of qualifying adoption expenses under the adoption tax credit section of the bill.
Delegate Kessinger's amendment requires all state and federal laws governing insurance coverage to apply to self- administered contraceptives ordered or dispensed by a pharmacist.
The first amendment, from delegates Fast, Honaker, Longanace, Mallow, Martin, and Horst, requires local health departments to receive authorization from a guardian to dispense contraceptives to an unemancipated minor, to provide education and counseling on the risks of STDs and failure rates or contraceptives, and provide education and counseling on the importance of abstinence.
The second amendment, from delegates Fast, Honaker, Longanace, Mallow, Martin, and Horst, strikes out Section 601 of Chapter 49, Section 4.
Delegate Tully's amendment states that nothing in this section prohibits the health department from obtaining grants, or appropriations to cover the cost of contraceptives or billing insurance plan or Medicaid.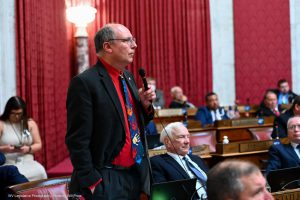 Delegate Ellington's amendment removes "hysterectomy" as a sterilization process, as it is no longer performed to sterilize.
Other amendments were offered and rejected. The House's amended "strike and insert" was adopted. It advanced to the Senate.
The House is in recess until 6 p.m.