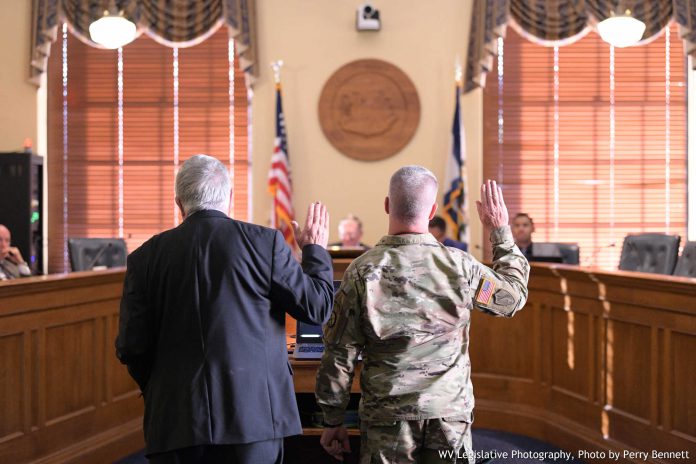 National Guard Major General James Hoyer told legislators progress has been made on RISE cases and West Virginia has been taken off the FEMA manual drawdown process.
In Tuesday's Joint Legislative Committee on Flooding, Hoyer and Mike Todorovich, director of the West Virginia Division of Homeland Security and Emergency Services, updated legislators on RISE cases.
RISE currently has 388 active cases, 348 of those cases have contracts awarded for construction, 32 are in the purchasing process, and eight remain. Hoyer said cases are churning through and as those eight go through the process, more will come up behind them.
"Where we are now, VOAD (Voluntary Organizations Active in Disaster) informed me there are a total of 1,384 cases out there, 400 to review to determine if any are eligible even though they may have been told otherwise," Hoyer said.
Hoyer told the committee additional staff have been hired, who are going through about 45 cases per week.
"We have a path forward to get through all of those," he said.
Since June, active cases have gone down from 479 to 397 last month, and down to 348 this month. Last month, Hoyer told the Flooding committee some of the cases have come off the list because reviewing cases found that some had duplicated benefits or had income levels outside of HUD (the U.S. Department of Housing and Urban Development) requirements for funding.
A requirement under the Fair Housing Act is to conduct outreach related to slum and blight approval. Hoyer said right now, November 1 is the date to take houses down and contractors have been awarded. An objective, Hoyer said, is to put 60 foundations in place before winter.
Hoyer said seven bridges have been completed. He mentioned one bridge is currently on hold in Clendenin. The bridge serves 17 families. However, before construction can take place, a mussel study needs to be done. The cost, he said, is $27,000.
"If we don't complete that before Oct. 1, we have to wait until April because of the timeline related to mussel spawning," Hoyer said. "We are working with the DOH (Division of Highways), who has a group of people to help us meet requirements for Fish and Wildlife and HUD."
Todorovich updated the committee on FEMA, saying West Virginia has completed requirements needed to come off the manual drawdown process. According to a news release from the West Virginia Division of Homeland Security and Emergency Management, the process was in place starting November 2015 and by being released from manual drawdown, the division will be able to operate more efficiently.
Todorovich explained there were two reasons for the release from manual drawdown – completing policies required and completing the monitoring program, which were both deemed satisfactory.
There are two lingering issues with school constructions, Todorovich said. In Clendenin, mineral rights disputes have put construction on hold and in Nicholas County, the footprint of land from the school increased by 10 acres, which was more than originally listed.
For hazard mitigation funds, Todorovich, said he believed the first bid of mitigation money could be in 45 days. He clarified this is 45 days until funds are dispersed. He did not expect to see projects completed for three to four months.