The Joint Education Committee met this afternoon and heard a presentation on Marshall's program "Marshall for All, Marshall Forever."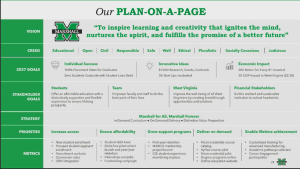 Marshall University was created in 1837 and gained university status in 1961. In 2022, Marshall announced "Marshall for All" with the goal that in 10 years no student will graduate with debt. Marshall currently serves 11,000 students of which 77 percent are from WV and 54 percent are first-generation students. The 1,770 faculty and staff serve students at four locations.
The University's role is to provide opportunities for individual success and innovative ideas for a positive economic impact.
Higher Education is facing a huge transition. As of 2025, there will be 21 percent fewer high school graduates in WV. Also as of 2025, there will be a drop of 18 percent of graduates interested in college. Students need a more affordable and flexible education to achieve their goals.
A major issue facing higher education is the increasing debt. Although Marshall is more affordable than many of its instate and regional peers, students still find themselves in tens of thousands in debt.
Higher education is being reinvented with the digital transformation. Students have knowledge of economic demands and are looking to non-traditional providers for low-cost, anytime/anywhere access to education to obtain relevant degrees and certificates. Practicality is more important than prestige. With these changes, online degrees and micro-credentials are increasing as full-time in-person enrollment is decreasing. To stay relevant, universities must pivot and offer these courses.
Marshall's Strategic Roadmap to Future Prosperity is a transformation to promote long-term sustainability and lead with the best to leapfrog and become a reference case. By 2027, the University plans to be back in the green financially by growing students, not fees; investing in the team; taking care of the structures; and managing resources.
In 2037, Marshall University will be 200 years old. The plan is 100 percent of graduates will have job placement and zero student debt. To do this, the University will need to raise $300 million in 10 years to phase in the zero-debt plan beginning with the first 100 students in the fall of 2023. The University plans to have $150 million in funded research, grants, and contracts with a 3x return on startups. Stakeholders will make a 30x return for every $1 invested. The plan is in line with the performance-based funding formula.
Marshall looks to serve more people by expanding the student pool to focus on non-traditional students in addition to high school seniors. The University will offer an in-demand curriculum on demand and distinctive value propositions.
The Committee also heard from Lexia Learning on Early Literacy Professional Development, whose mission is to create opportunity for every student through the power of literacy education.