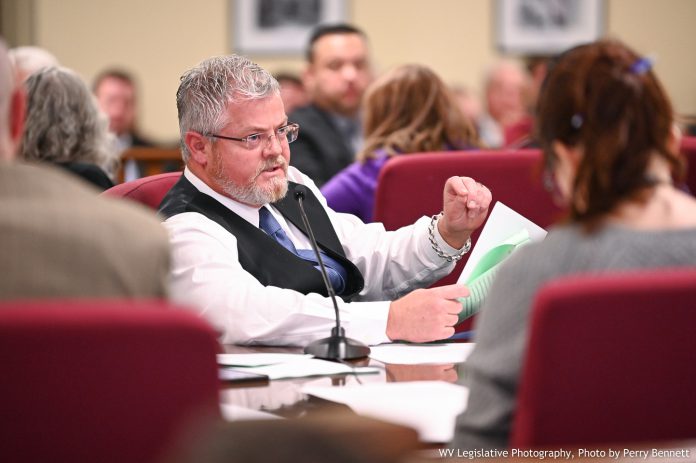 The House Health and Human Resources Committee advanced five bills, including one that would dedicate interest from the Rainy Day B Fund to smoking prevention and cessation efforts.
In their Tuesday evening meeting, committee members took up House Bill 4494, the Tobacco Use Cessation Initiative. The bill would take a portion of interest out of the Rainy Day B Fund and place it into a Tobacco Cessation Fund, which would be used by the Division for Tobacco Cessation. In consultation with an advisory board, the division would work on developing evidence-based programs to reduce smoking.
The Rainy Day B Fund was established following a 1998 settlement with tobacco companies. West Virginia took a portion of the tobacco settlement money as a down payment on the teacher retirement plan deficit. The remaining amount was placed into Rainy Day B, which depending on the market, can generate more than $20 million a year in interest.
Delegate Mick Bates, D-Raleigh, the lead sponsor of the bill, explained that the money in the Rainy Day B fund will remain unappropriated in that fund until 2025.
"This would take the lid off Rainy Day B and take a portion of interest to dedicate to evidence-based tobacco, including vaping, cessation and prevention efforts, to be determined by a task force," Bates said.
The bill would not touch the principal already accumulated and would only dedicate 50% of the available interest. Smoking cessation programs would be funded through a special revenue account. The Legislature would determine the spending authority.
House Majority Leader Amy Summers, R-Taylor, explained that money cannot be taken from Rainy Day B until Rainy Day A has expired. Summers asked how the bill would change that. Bates explained the bill would change the date in which funds could be taken from Rainy Day B.
The bill now heads to the House Finance Committee.
The committee also advanced a bill that would allow the Office of Health Facility Licensure and Certification (OHFLAC) to impose civil penalties or to suspend licenses of behavioral health centers.
Currently, OHFLAC does not have that authority and can reprimand, stop admitting people on a temporary basis, or shut down a behavioral health center.
The committee heard from Mark Drennan, CEO of the West Virginia Behavioral Healthcare Providers Association, who told legislators that facilities struggle with attracting and retaining staff.
"For our direct care staff alone, there are 1,200 vacancies," Drennan said. "This is directly related to pay. We have not had a significant rate increase since 2011."
Drennan said there was an 8.5% increase last year but he believed that to retain people, wages would have to be increased to $13 per hour, which he said he believed would go farther than additional penalties. Drennan said he also was worried about the proposed elimination of the IDD Waiver wait list, because a certain amount of people would be in the health facilities.
"At this point, it would be hard to add 300 people to the rolls when we have 1,200 vacancies," he said.
The committee advanced the bill, which next heads to the House Judiciary Committee.
The committee advanced three other bills Tuesday, including House Bill 4551, which narrows adoption subsidies including that subsidies would not be made for adopted children once they turn 18 years-old, unless there is a special need that warrants the continuance of assistance. The bill also would end subsidies after they turn 21 years-old and for those under 18 if the department determines the adoptive parent does not have a familial bond with the child. 
This bill now heads to Finance.
The committee also advanced House Bill 4569, which adjusts the rates on managed care organizations, and reconsidered and then advanced House Bill 4003, which relates to telehealth insurance requirements. House Bill 4569 heads to Finance.