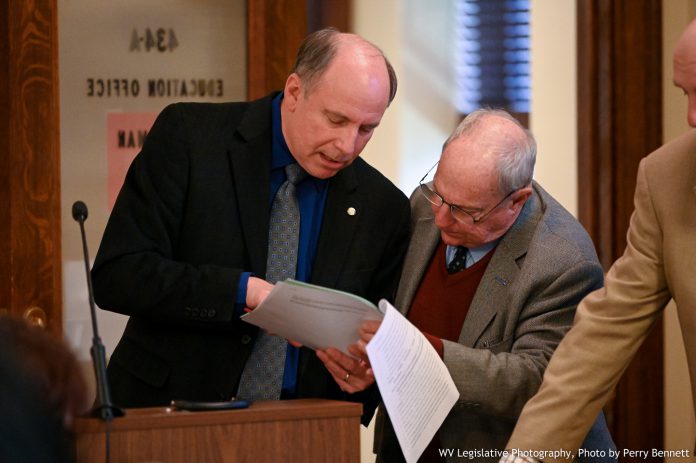 The House Education Committee advanced five bills Tuesday, including a bill that aims to provide adequate mental health services for students.
House Bill 4112 sets forth that county school boards would provide adequate mental health services for all students attending public schools, that school boards may take other action to protect students from harming themselves or others, and that school boards would provide mental health services to students as a result of issues stemming from substance use disorder.
This would begin in the 2022-2023 school year and provides that school boards employee at least one full-time psychologist per 1,000 students in grades K-7. Counsel explained the school boards could also contract with school psychologists.
Amy Willard, director of school finance for the West Virginia Department of Education, told the committee that some counties exceeded the ratio proposed under the bill but other counties don't currently have psychologists on staff. Willard explained there is a shortage of school psychologists and West Virginia only retains half of new graduates each year to fill those positions.
"A lot go elsewhere so we have difficulty filling these positions," Willard said.
The bill now heads to the House Finance Committee.
The committee also advanced House Bill 4165, which would establish the West Virginia Remembers Program. Under this program, veterans would volunteer to share their experience in an educational setting.
The bill now heads to the House floor.
The committee advanced House Bill 4720, which would expand last year's Senate Bill 1 to include not-for-profit baccalaureate institutions as eligible schools under the West Virginia Invest Grant Program. This would enable these institutions to partner in advanced career education program partnerships.
Delegate John Doyle, D-Jefferson, opposed the bill, saying he felt the state should wait another year to see how Senate Bill 1 affects public institutions first.
Delegate Caleb Hanna, R-Nicholas, supported the legislation, saying he felt the bill would give rural students more options.
"For a lot of students, in order to use the two-year invest grant, they have to drive 2.5 hours away to find a school that accepts the West Virginia Invest Grants," Hanna said.
The bill now goes before House Finance.
In the Education Committee's evening meeting, members advanced two more bills. One bill, House Bill 4519, would establish an optional summer youth intern pilot program within the Department of Commerce.
Currently, there is no exact figure for the fiscal note, however, Commerce estimated it could cost between $150,000 and $200,000 for the first year and the department would not be able to start the program this year. The bill anticipates these internships to be paid.
Additionally, the committee advanced House Bill 4729, after a subcommittee assigned earlier to review the bill reported out a committee substitute. This bill would require higher education institutions to use previous versions of instructional materials unless the school's board of governors approved the need for a newer version.
Earlier Tuesday, Travis Mollohan, director of state and local relations for WVU, told the committee he believed there were several issues with the bill. One issue, he said, is that going to the board of governors or another committee each time a professor believes new materials are needed could bog down the board. He also said the committee should consider revising the bill to include occupations that need updated materials, including health care professions.
The committee substitute changed the decision of whether to use new versions of instructional materials from the board of governors to an education resource committee. The committee substitute also made it where employees could not profit from decisions to use educational resources.
The committee substitute was adopted and the bill was advanced.
The committee delayed action on House Bill 4492, which would establish the West Virginia Children's Vision Act. The bill would require children to have proof of vision exams before enrolling in public schools.