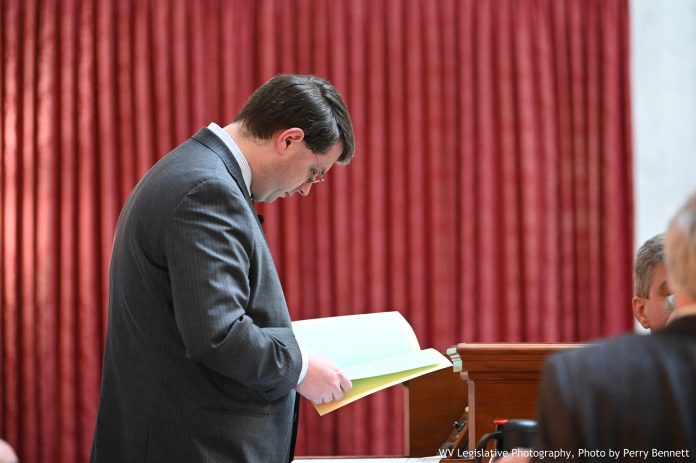 In Monday's floor session, the House passed House Bill 4009, which relates to the procedure for involuntary hospitalization.
House Bill 4009 permits a doctor to order the involuntary hospitalization of a mentally ill or addicted patient that is in clear danger to themselves or other people.
In the case of a psychiatric emergency, a doctor may hold a patient for up to 72 hours. This procedure has been established in the case where a mental hygiene commissioner, county magistrate or circuit judge is unavailable for an immediate hearing. Upon admission and up to 24 hours after admission to the hospital for the involuntary hold, the doctor must file a petition for a mental hygiene hearing. During the hold, the patient may receive medical treatment if necessary. The patient that is involuntary hospitalized must be released within 72 hours.
Judiciary Chair Delegate John Shott, R-Mercer, spoke in favor of the bill during the floor session.
"It's not too often that we have the opportunity to pass bills that can save lives. I think this bill is one of those," he said.
The House also passed House Bill 3127, which allows home-schooled students to participate in secondary school extracurricular activities. The Senate has passed similar legislation in recent weeks. Senate Bill 131 is called the "Tim Tebow Act," which is named after former homeschooled NFL and current MLB player Tim Tebow.
House Bill 3127 goes further with the qualifications that must be reached before an individual is permitted to participate in extracurriculars. Students must demonstrate satisfactory evidence of academic progress for one year and be enrolled in one virtual instruction course per semester before being eligible.
This bill has been communicated to the Senate for consideration.
The House passed six other bills.
Senate Bill 657 was passed with an amendment. It will go back to the Senate for concurrence with the amendment.
Thirty bills were advanced to third reading. Forty-three bills were advanced to second reading.
The House is adjourned until 11 a.m. Tuesday.