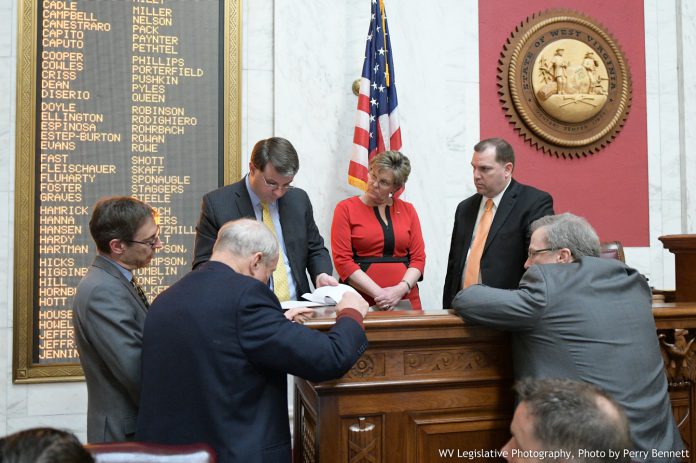 The House convened at 9 a.m. for an early floor session and passed Senate Bill 583, which creates a program for renewable energy resources.
Senate Bill 583 permits electric companies to expand their capacity by providing energy from solar power. This bill aims to attract business into the state with the diversification of energy production.
There are several large businesses in the country that require a percentage of their energy to be produced by solar, including Amazon, Google and Netflix. These corporations have stated that they will not bring their business into West Virginia without the possibility of solar power production.
This solar power program will increase customer's power bills by 18 cents per month, but this number has the potential to decrease if more customers sign up for solar energy. The largest consumer of energy in the state is the industrial sector.
Senate Bill 583 passed the Senate unanimously but was met with some resistance in the House. Those opposed to this bill were concerned about how solar power will affect the future of the coal industry in the state. However, others in support of the bill stated how this program will benefit the state by attracting large businesses. Additionally, those in support of this bill stated the potential of this program to actually increase usage of all forms of energy in the state, with the attraction of new energy customers. It is estimated that solar power is viable for 25% of energy production, and the remaining 75% is covered by coal and natural gas sources.
Delegate Rodney Miller, D- Boone, spoke in favor of the bill and mentioned how solar energy could benefit his county in southern West Virginia, which has been hit particularly hard by the decline of the coal industry.
"If this is something that we can do to move West Virginia forward, then we need to do this," he said.
Despite the controversy, Senate Bill 583 was passed in the House.
Fourteen other Senate Bills were passed.
Ten bills were advanced to third reading. The budget bill, Senate Bill 150, was advanced to third reading with amendments pending and the general right to amend. Twenty-seven bills were advanced to second reading.
The House is in recess until 7 p.m.
After the recess, the House received committee reports and message from the Senate.
The House is adjourned until 10 a.m. Wednesday.