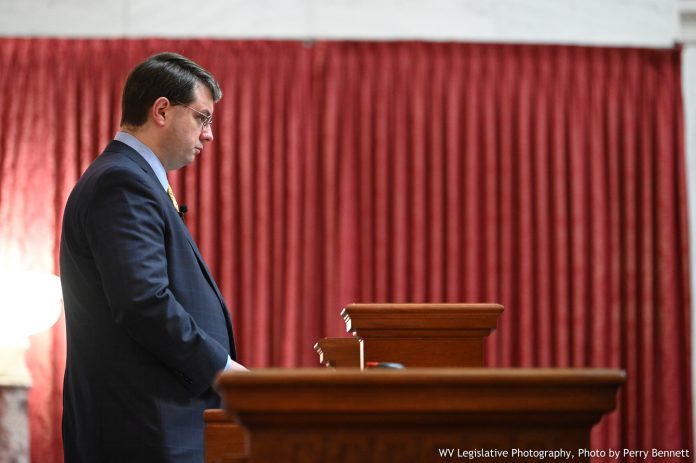 The House passed Senate Bill 150 during Wednesday's floor session, which details the state's budget for the 2020-2021 fiscal year.
Senate Bill 150, also called the Budget Bill, was passed after several attempted amendments during the floor session.
The total general revenue budget for this year is $4.579 billion.
Although 16 amendments were proposed, two were adopted. The two adopted amendments came from the House Finance Chair, Delegate Eric Householder, R-Berkeley. The primary amendment, a strike and insert, detailed the House's proposed budget. The second amendment changed a few line items on the primary amendment to provide funding in a total of $3.3 million for a second location of the Mountaineer ChalleNGe Academy.
The Mountaineer ChalleNGe Academy trains and mentors at-risk youths from the ages of 16-18 in a 22 week program. This program offers participants help to obtain a high school degree. This program has been very successful. Approximately 90% of participants obtain their degrees upon completion. The first location of the academy is located in Kingwood, located in Preston County. The new second location is set to be located in Montgomery, which is located in the Upper Kanawha Valley. There will now be funding for a northern and southern location for this program.
The House's budget also provided $16.8 million for foster care, under House Bill 4092, which would increase the per diem rate for foster families. This bill is still under consideration in the Senate. During the floor session, this funding was described as the House's top priority for the legislative session.
The governor's original budget allocated $108 million to fully eliminate the waitlist for the I/DD Waiver. The House and Senate did not change this amount.
The House budget also provides an additional $17 million for Medicaid restoration.
The House suspended the constitutional rules during the session to dispense with the rule that bills are to be read on three separate days for eight bills.
The House refused to concur with the Senate amendment for House Bill 4039. The House concurred with the Senate amendments for 10 other House Bills.
Thirty-five bills were advanced to third reading. Thirty-seven bills were advanced to second reading.
Action for three bills, Senate Bills 275, 547 and 747, was postponed for one day.
The House is adjourned until 9 a.m. Thursday.