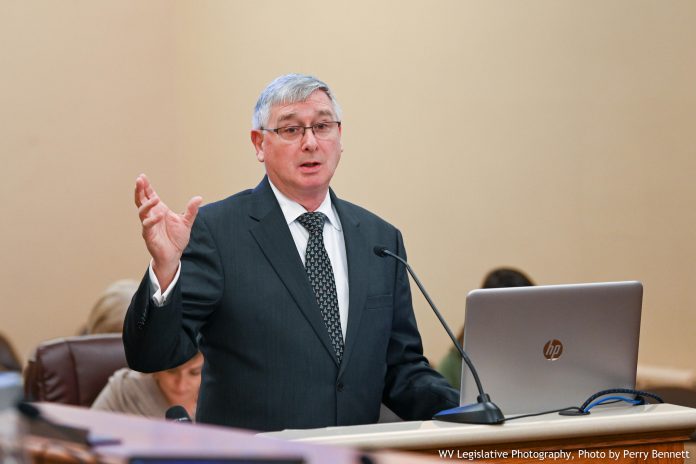 The director of the West Virginia Public Employees Insurance Agency told legislators there are no plans for premium increases or benefit cuts in the next plan year.
However, some legislators expressed concerns in Monday afternoon's meeting of the Select Committee on PEIA Seniors and Long Term Care about the long term use of funds from PEIA's Rainy Day Fund.
Director Ted Cheatham gave committee members an overview of PEIA's finances and progress with implementing prior-authorization processes under House Bill 2531. He told committee members there are no planned premium increases for state employees or retirees for the next plan year and that money transferred from PEIA's Rainy Day Fund will not go toward the 80/20 calculation.
Delegate John Kelly, R-Wood, said he was concerned about depleting PEIA's Rainy Day Fund.
"If we don't increase rates, we will continue to deplete what we have in the Rainy Day Fund and be back to where we started from. I don't want to go in that direction," Kelly said.
"I think we're headed in the wrong direction," Kelly later added.
Delegate Randy Swartzmiller, D-Hancock, also expressed concerns about depleting the balance, asking what would happen if money in the Rainy Day Fund ran out.
Cheatham said in that situation, he would have to come back before the Legislature to request more funding. He said PEIA needs about 50 million in new dollars every year to keep the program sustainable.
Cheatham went over PEIA enrollment and proposed changes. He explained PEIA's enrollment has been relatively flat for the last five to six years. However, the number of retirees has been increasing, with an average of 3,000 new retirees every year. He said that increase has started to slow down with 2,500 new retirees this year.
He also mentioned benefit recommendations including adding two free chiropractic visits for back pain.
"Studies show the use of a chiropractor can avoid surgeries and more expensive care later," Cheatham said.
Another proposed change is to align PEIA's high-deductible Plan C with Plans A and B in having no out-of-network coverage out of state. Cheatham said PEIA also will explore providing coverage through alternative foundation funding to offset costs for some specialty medications.
PEIA also has tentative plans to launch two wellness pilots in January—one, called CAPPA, which is a diabetic prevention program; and the other, Naturally Slim, which is a weight control program.
Cheatham said the PEIA Trust Fund has more than $1 billion in funding for OPEB liability. He said OPEB liability is 31% funded and he hopes to see it fully funded between 2036 and 2038.
Cheatham also covered progress implementing House Bill 2351, which established procedures, forms, portals, and deadlines for electronic prior authorization submissions Cheatham said UMR is PEIA's third party administrator and has an operational online portal. He said CVS also has an online portal for specialty drugs, which he said he hopes to see operational by July 1, 2020.