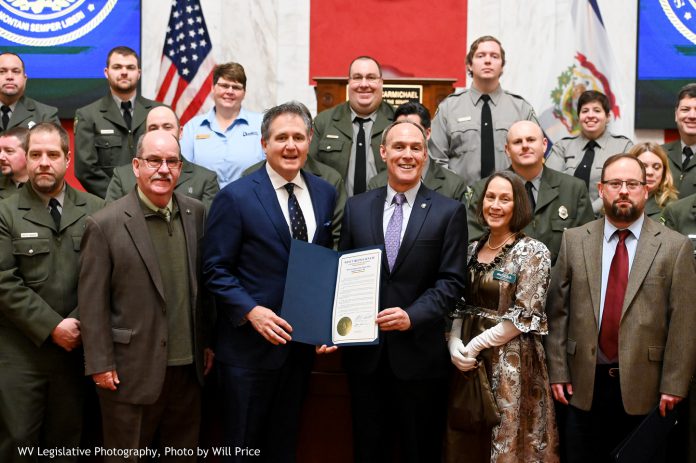 The Senate met at 11:00 Am today to discuss the passage of 13 bills, four of which originated in the House of Delegates.
One bill of particular interest and debate in the Senate was SB 131, which creates the Tim Tebow Act. This bill allows homeschooled students or students enrolled in a private parochial school that is not a member of the Secondary Schools Activity Commission to participate in sports or other activities in schools belonging to that commission.
The Senate debated on this bill, several members raising concerns about the unintended consequences of the bill. Senator Paul Hardesty, D-Logan expressed his reluctant opposition to the bill because of it potentially leading to low-performing students to leave public schools and still participating in its sports.
Senator Mike Romano, D-Harrison, also rose in opposition to the bill, stating that this legislation could potentially interfere with the systems set in place by the SSAC.
Others spoke in favor of the bill, saying that the Tim Tebow Act would be beneficial to students in providing opportunities previously unavailable to them. Senator Patricia Puertas Rucker, R-Jefferson, closed the debate by stating her support for the bill, saying that there was plenty of oversight for this bill and every student would have to meet the same standards as athletes enrolled in public school.
The bill passed 24-9 and will advance to the House for further consideration.
Four House bills were also passed Tuesday.
HB 2922 deals with requirements for a person found guilty of opiate or opioid possession to obtain a final order of dismissal. This excludes those found guilty of the possession of marijuana. The bill allows a court to require the successful completion of a drug court program or drug treatment program for the defendant to qualify for a final order of discharge or dismissal.
HB 3039 expands a court's consideration of a child expressing a preference for one guardian in some child custody matters.
HB 4030 increases the age limit for a person to apply for original appointment as a firefighter to 40 years old for honorably discharged veterans of any US Armed Forces branch.
HB 4275 is a rules bundle that authorizes the Department of Military Affairs and Public Safety to establish rules concerning the Fire Commission.
Senate bills 97, 208, 517, 575, 607, 618, 654 and 657 were passed and advanced to the House.
Senate bills 747-751 were introduced and referred to the appropriate committees.
The Senate adopted Resolution 35, congratulating Gary Young for being West Virginia's Outstanding Tree Farmer for 2020. The Senate also adopted Resolution 36, recognizing the 75th birthday of Smokey Bear. Two brief recesses were held for the presentation of these resolutions.
The Senate is adjourned until 11:00 AM tomorrow.
The Senate Judiciary Committee will meet at 3:00 PM today in room 208W.
The Senate Finance Committee will meet at 3:00 PM in room 451M.
The Senate Education Committee will meet following the last 3:00 meeting to adjourn.
The Senate Workforce Committee will meet at 9:30 AM tomorrow morning in room 208W.