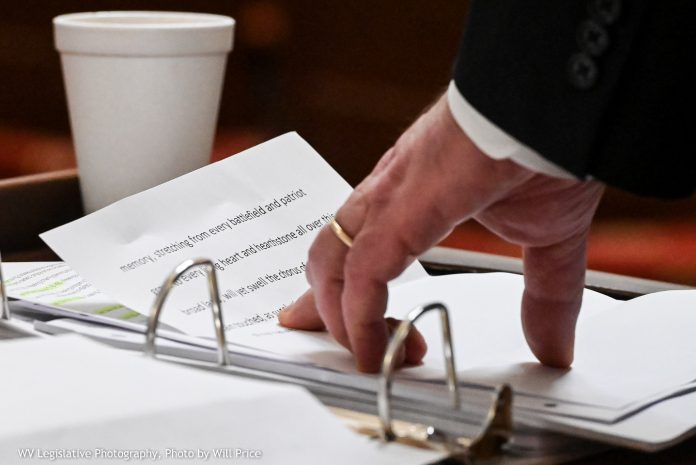 The Senate convened at 11 a.m. Wednesday, passing 15 bills, including one that eliminates the 45-day waiting period for adoption petitions.
HB 4129 was passed, completing legislation for the bill. This bill provides that if a child to be adopted has been removed from an abusive or neglectful home, the petition for adoption can be filed in the same county as the original abuse or neglect proceeding. The bill also requires the Department of Health and Human Resources to pay for adoption services.
The Senate also passed HB 4179, which creates the Recognition of Emergency Services Personnel Licensure Interstate Compact. The bill was first recommended by the Joint Committee on Volunteer Fire Departments and Emergency Medical Services for introduction and passage during this year's Regular Session.
House bills 4141, 2602 and 2924 were also passed in the Senate on Wednesday.
The Senate passed ten Senate bills, including Senate Bill 230, which requires the Board of Education to provide routine education on student suicide prevention to school faculty and staff. This would include teaching the warning signs and resources for suicide prevention.
The Senate also passed Senate Bill 641, which allows the West Virginia Children's Health Insurance Program to have flexibility in rate setting to save money to help with the budget shortfall and move program from fee-for-service to a managed care benefit. The bill creates a benefit plan for uninsured children in families with an income between 200%-300% of the federal poverty level.
Senate bills 163, 180, 545, 571, 647, 662, 664 and 674 were all passed and will advance to the House.
The Senate concurred with the House on Senate bills 364, 500 and 501, completing legislation for these bills.
The Senate adopted Resolution 37, designating February 12, 2020 as WV Literacy Day. A brief recess was held for the presentation of this resolution.
The Senate is adjourned until 11 a.m. tomorrow.
The Senate Judiciary Committee will meet at 3 p.m.in room 208W.