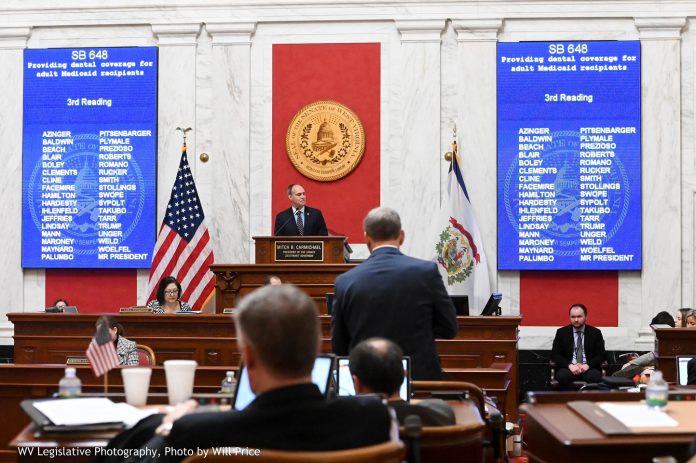 The Senate met at 10:00 a.m. on Wednesday and passed a total of 52 Senate bills. Today is Crossover Day at the Legislature and all bills are required to be advanced from their houses of origin to receive further action this session.
The Senate passed SB 648, which provides dental coverage for adult Medicaid recipients. Several members of the Senate rose in support of the bill.
Senator Ron Stollings, D-Boone, stated that while he believes the program should be expanded, this would be a good start. "This bill will have a far-reaching impact," he said.
Senator Tom Takubo, R-Kanawha, also stood for the bill, saying that preventative treatment would likely reduce the amount of coverage needed for emergency care. "Emergency procedures are more expensive than maintenance care," he said.
SB 653 was passed as well, which increases the number of magistrates in Putnam, Monongalia, Berkeley and Jefferson Counties. The bill states that effective January 1, 2021, Berkeley County will have 6 magistrates, Jefferson County will have 4, Monongalia County will have 5 and Putnam County will have 4.
SB 752 was placed on third reading with right to amend. This bill updates and improves the WV Medical Cannabis Act by increasing the locations of dispensaries and the acceptable forms of medical cannabis. The bill also clarifies that the Tax Division and the Bureau of Public Health are to monitor the price of medical cannabis.
Senator Charles S. Trump IV, R-Morgan, proposed an amendment to grant the Commissioner of the Department of Health and Human Resources the authority to approve or disapprove of forms of medical cannabis based on recommendations from a medical advisory board. The amendment was adopted by the Senate and the bill was passed.
SB 850 was passed as well. This bill clarifies that racial discrimination includes discrimination based on certain hair styles and textures. This includes but is not limited to hairstyles such as twists, braids or locks.
The Senate also passed SB 38, which, as amended, allows county boards of education to offer high school students an elective social studies course on sacred texts or comparable world religions. The bill allows a student to use a translation of their choice. The purpose of this course would be to educate students on literary forms and symbolism which influence culture, art, philosophy, law, etc.
SB 661 changes the minimum minutes of intersectional time required per day to an average of 5 hours per day throughout the instructional term. The bill prohibits the instructional term from commencing before September 1 and allows county boards of education to publish notice of public hearings for discussing school calendars on the board's website.
The Senate adopted Resolution 56, congratulating Jason Gibs of Wayne High School for being the PLTW Biomedical Science Teacher of the Year. A brief recess was held for the presentation of this resolution and to recognize Gibbs and his family.
The Senate also adopted Resolution 52, designating February 26, 2020 as Celebrating Children and Families Day with the West Virginia Child Care Association. A brief recess was held to present this resolution and recognize members of the WVCCA.
The Senate is in recess until 11:00 a.m. tomorrow.
The Senate Judiciary Committee will meet at 9:30 a.m. tomorrow in room 208W.
The Senate Finance Committee will meet tomorrow at 9:30 a.m. in room 451M.