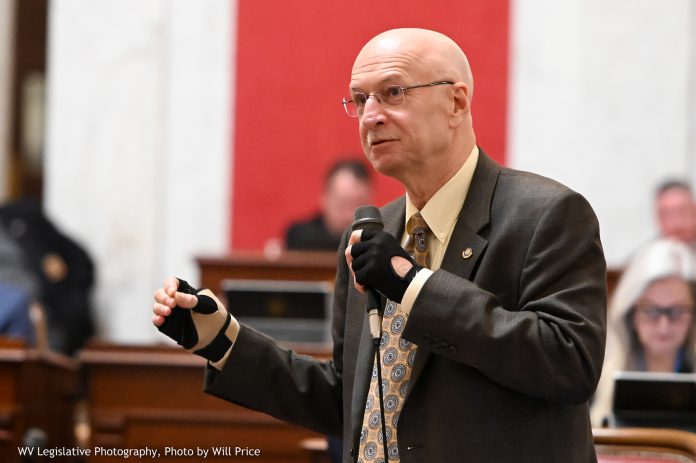 The Senate convened at 9:00 a.m. on Saturday to discuss Senate bill 150, which describes the Senate's budget for the 2020 fiscal year.
As of today, the total general revenue budget of the West Virginia Senate is $4.571 billion.
Currently, $6.3 million of this budget has been dedicated to the Intermediate Court of Appeals established by Senate bill 275. This bill is currently awaiting consideration from the House of Delegates.
The Senate does not currently include the additional $17 million proposed by the House dedicated to improving foster care. These funds would raise peridium for families providing foster care.
The Senate adopted three amendments to the budget bill on Saturday.
Senator Craig Blair, R-Berkeley, proposed the amendment to fully fund the Disability waivers from the Department of Health and Human Resources. This provides homecare instead of institutionalized care for people with intellectual and developmental disabilities to maximize their independence. This now occupies a total of $108.5 million of the Senate's budget.
Senator Stephen Baldwin, D-Greenbrier, proposed an amendment to better fund rape crisis centers. He proposed an additional $125,000 be dedicated to these centers.
Senator Ron Stollings, D-Boone, proposed that $2 million be dedicated to the Public Health Emergency Response Fund in response to the global outbreak of the Corona Virus. He said that there was an increasing need to better educate the public and prepare hospitals to minimize exposure and spread of the disease.
Senator Tom Takubo, R-Kanawha, stated his support for the bill, saying that this could save at-risk West Virginians, and if the outbreak passes, the money would not have to be spent.
The budget bill passed as amended and was ordered to the House.
The Senate passed four House bills on Saturday as well.
HB 2149 permits the Farm-to-Food Bank Tax Credit to equal 100% of the value of the donated products if the value is $2,500 or less.
HB 4437 adds eligible unbanked payees of state funds to the WV Pay Card Program. This would increase efficiencies and decrease the expenses of paper check issuances.
HB 4513 increases the costs for game and protected species replacement. The bill also increases replacement costs for antlered deer and creates provisions for hunting and fishing license revocations.
HB 4582 declares certain claims against state agencies be considered moral obligations of the state. The bill directs the Auditor to issue warrants for the payments of these claims.
The Senate is adjourned until 11:00 a.m. on Monday.
The Senate Committee on Government Organization will meet at 1:00 p.m. in room 208W.
The Senate Education Committee will meet at 1:00 p.m. in room 451M.
The Senate Judiciary Committee will meet at 3:00 p.m. in room 208W.
The Senate Finance Committee will meet at 3:00 p.m. in room 451M.