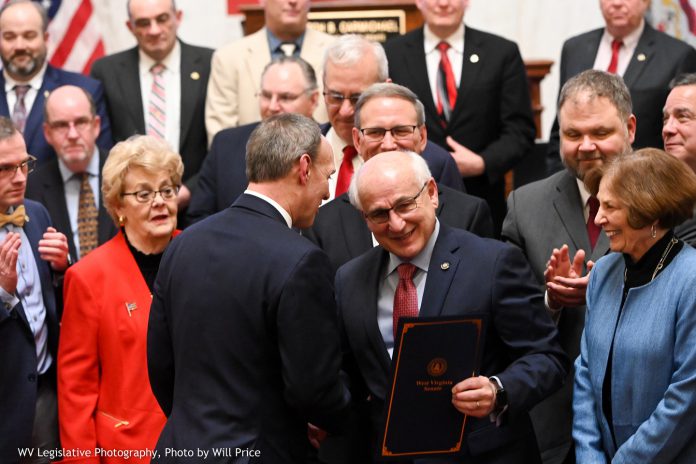 The Senate convened at 10:30 a.m. on Saturday for the final floor session of the 2020 regular session.
Legislation was completed for SB 150, the 2020 Senate budget bill.
The Senate completed legislation after concurring with additional House amendments for House bill 4092, which updates the current foster care system in the state. The bill increases reimbursement for child placement agencies and foster families, increases the number of children allowed in a foster care family and requires the DHHR to use a tiered reimbursement model to increase the rate for families caring for foster children with more specific needs.
House bill 4543 relates to insurance coverage for diabetics and the cost of insulin. It is estimated that there are over 240,000 West Virginians diagnosed with diabetes, all who rely on daily doses of insulin to survive. In recent years, the cost of insulin has escalated and can cost over $600 per month. This bill reduces the cost of insulin to cost $100 or less per month, regardless of the type of insulin used.
House bill 4737 waives the requirement for the completion of the FASFA in order to receive state-sponsored financial aid under certain conditions. The bill would mostly apply to students who don't have access to the forms needed to complete the FASFA because they are under the care of someone other than their parents.
All of Governor Jim Justice's executive nominations were confirmed on Saturday.
The Senate adopted Senate Resolution 71, which memorializes the life of Karl Cameron "Butch" Lilly, a former Assistant Clerk of the WV Senate who passed away in November 2019. A brief recess was held for the presentation of this resolution. Lilly's loved ones visited the Senate chamber to be recognized.
Resolution 72 was also adopted, urging Congress to safeguard pharmaceutical supply chains.
Senate Resolution 73 was adopted as well, which memorializes the life and work of Dorothy Vaughn, a NASA mathematician and computer programmer.
The Senate also adopted Resolution 75, recognizing the dedication and public service of the Senator Roman W. Prezioso, Jr., D-Marion, the current Senate Minority Leader. Several members of the Senate rose in support of the resolution and thanked Prezioso for his contributions to the West Virginia Legislature. This is his last session before his retirement.
Senate Resolutions 76, 77 and 78 were adopted as well, recognizing the dedicated service of Senators Corey Palumbo, D-Kanawha, and Kenny Mann, R-Monroe and Paul Hardesty, D-Logan, respectively. Both senators have chosen not to run for re-election this year and were thanked for their contributions.