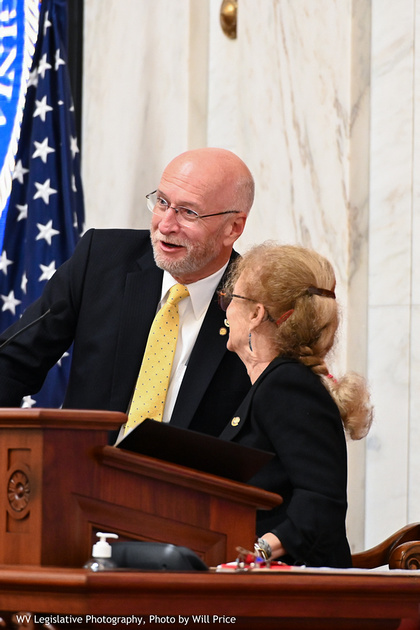 The Senate passed SB3033 this afternoon, approving a new congressional map that will divide West Virginia into two north-south districts.
The map was amended to align with the House of Delegates' map of choice, signaling agreement in both bodies. The map proposals in each body were already very similar, with the only difference being the positioning of Ritchie and Pendleton counties. The current map places Pendleton in the southern district and Ritchie in the northern district.
There was little debate on the map that was approved on a 30-2 vote with two Senators absent. Senators Robert Karnes ( R-Randolph, 11) and Mike Caputo (D-Marion, 13) were the dissenting votes.
Also on Wednesday, the Senate passed 24 supplemental appropriation bills as well as various other items.
The Senate delayed action on SB3034, the bill proposing new Senate districts, until tomorrow. The bill will be up for passage then, with amendments still possible.
Senate Bill 3035, requiring covered employers provide certain exemptions from mandatory COVID-19 vaccinations, and Senate Bill 3036, another appropriation measure, were read a first time today. Both of these bills were recent additions to the Governor's Special Session call.
UPDATE

The Senate reconvened briefly at 6 p.m., amending and passing Senate Bill 3026, relating to review, approval, disapproval, or amendment of local boards of health rules by county commission or county board of education. The bill now heads to the House for consideration.
The Senate is adjourned until tomorrow, Oct. 14, at 11 a.m.