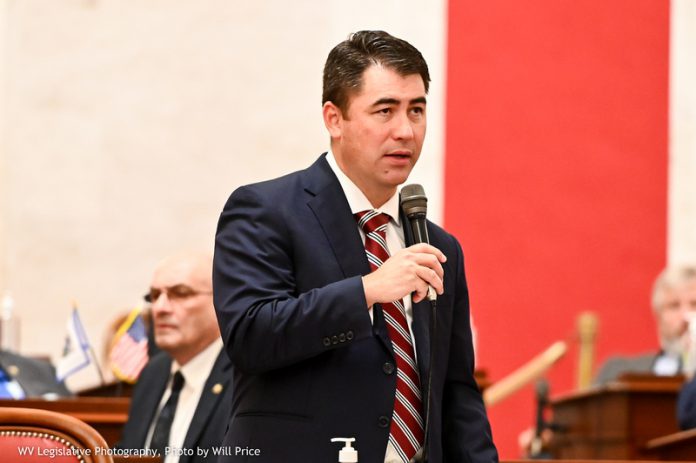 Following several days of debate and and consideration, the Senate reached an agreement this afternoon regarding how its districts will be shaped for the next 10 years.
The approved map, newly-amended into Senate Bill 3034 today by senator Charles Trump (R – Morgan, 15) passed on a vote of 31-2 with one absence.
Trump called the prevailing map a good plan that he believes is constitutional. He described it as a blend of the two maps considered yesterday.
"This amendment I believe reconciles and harmonizes some of the issues that were points of contention," Trump said. "This is the product of conversations and compromises over a long period of time by a great number of people."
The map divides 11 counties, fewer than the options presented yesterday. One of the major points of contention was alleviated by keeping the 17th district entirely in Kanawha County. A previous map had split the district, offering no assurance that the state's largest county  would have its own senator.
The map now heads to the House of Delegates for consideration. Traditionally, each body passes its counterpart's map with no changes.
Later on Tuesday, following a lengthy debate, the Senate completed action on House Bill 335, the Covid-19 medical/religious vaccine exemption bill. The legislation completed on a narrow 17-16 vote with one senator absent. Efforts to make the bill effective from passage failed to reach the 2/3 vote requirement.
The Senate also completed action on House Bill 336, supplementing and amending appropriations to the Department of Homeland Security, Division of Justice and Community Services.
Finally, the body suspended the constitutional rules requiring a bill be read on three separate days to quickly pass Senate Bills 3039-3041. These bills, originating in the rules committee, included a measure creating the Broadband Development Fund as well as two supplemental appropriation bills. They now head to the House of Delegates for consideration.
The Senate is adjourned until tomorrow, Oct 20, at 5 p.m.