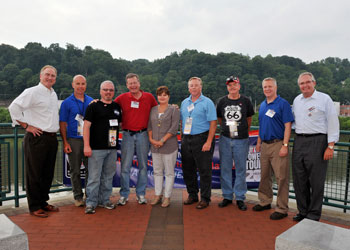 West Virginia Delegates attended a reception at Haddad Park on Monday evening during the 2014 HotRod Power Tour in downtown Charleston. Delegates in attendance for the event included Minority Leader Tim Armstead, Eric Nelson, Jim Butler, Gary Howell, Kelli Sobonya, Eric Householder, Scott Cadle, Ron Walters, and Danny Wells. The reception was hosted by the Specialty Equipment Manufacturers Association (SEMA) and Source Interlink Media, the parent company of HotRod Magazine.
After dinner, several speakers talked briefly about how excited they were with Charleston being a stop on the 2014 Power Tour, the beauty of West Virginia, and how big of an impact the State Legislators make. Speakers included Peter Englehart (Chairman of the Board, Source InterLink Media), Chris Kersting (President & CEO of SEMA), and Doug Evans (Editor of HotRod Magazine). Delegate Gary Howell (R-Mineral), who is currently serving as the National Chairman of The State Automotive Enthusiast Leadership Caucus – SEMA, also gave some brief comments to the attendees after being introduced by Doug Evans.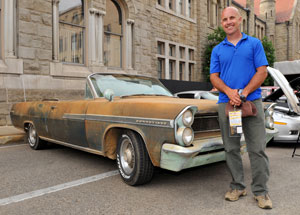 While a few Delegates brought their hot rods to the car show, Delegates Howell and Householder are traveling with the 3,000+ other enthusiasts participating in the 2014 HotRod Power Tour in Howell's modified 1999 Jeep Cherokee.
PHOTOS
In the Photo (L to R): Delegates Eric Nelson, Jim Butler, Gary Howell, Source Interlink Media's Peter Englehart, Delegates Kelli Sobonya, Eric Householder, Scott Cadle, Tim Armstead, Ron Walters
Delegate Jim Butler next to his well-patina'd 1963 Pontiac Bonneville Convertible
Delegate Scott Cadle next to his Plymouth GTX