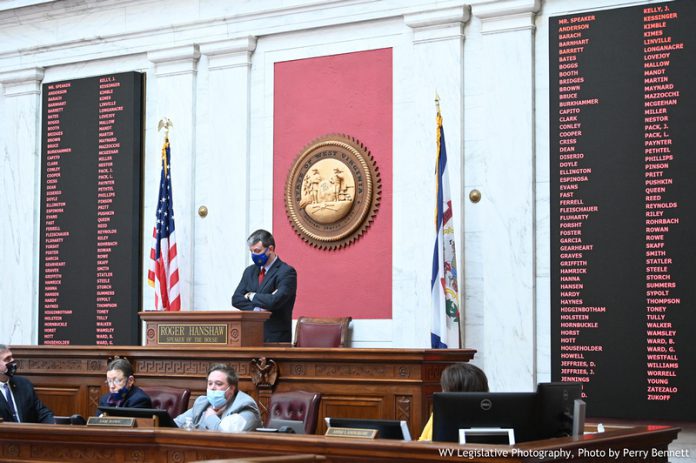 It has been a busy day for the House of Delegates. The 59th Day of Session began at 10:30 am and continued into the afternoon. A couple of  bills saw their end before the House recessed at 2:30 pm.
The House, unanimously, refused to concur with the Senate on House Bill 3300. The purpose of House Bill 3300 was to reduce and eventually eliminate personal income taxes. The Senate received the bill on March 30. After much debate and changes on the Senate floor, the bill passed 18-16. The House received the message today, refusing to concur.
The House also rejected Senate Bill 569 after passing an amendment to the bill. The amendment struck the entirety of the bill and inserted a version that limited medical monitoring. The amendment passed 50-49. After being amended, the bill was rejected 38-62.
Several Resolutions and Bills passed this morning, including, Senate Bill 334, Senate Bill 464, and Senate Bill 542.
Senate Bill 334 establishes a license application process for syringe exchange programs. Delegates described this bill as a compromise and the first step to a comprehensive program for addicts. Last year, after Charleston's syringe program, the city had one less HIV case than New York City. Delegates stressed the importance of syringe exchange programs. The programs can help prevent another epidemic.
Senate Bill 464 requires any compost products sold must comply with the West Virginia Fertilizer Law.
Senate Bill 542 requires all public electric utilities to maintain a contract for a 30-day aggregate fuel supply for the remainder of the life of existing coal-fired plants. It also requires that public electric utilities provide advance notice of retirement, shutdown, or sale of electricity-generating units.
The House is in recess until 5 pm.
Today's Meetings
The Finance Committee will meet at 4:15 pm in the House Chamber.
The Judiciary Committee will meet at 4:30 pm in Room 410M.
The House reconvened and continued with bills on third reading. Once completing the agenda, the House received more Senate messages, including HB 3293, HB 3310, and HB 2022.
House Bill 2022 is the Budget Bill, which the House concurred with the Senate and amended.
The House is adjourned until 11 am tomorrow, April 10.
The Rules will meet at 10:45 am in Room 410M.