During the morning session of Day 60, the House concurred and completed Senate Bill 250, Budget Bill.
The Finance Chair explained there were compromises between the Senate and the House, as well as the addition of the Governor's adjustments.
The Finance Chair took the Senate's position on Meat Inspection Fund, the Global Economic Development Partnerships within the Department of Economic Development, Jobs & Hop, the Educational Broadcasting Authority, Sexual Assault Intervention and Prevention within the Division of Health, and West Virginia State University. House requests within the amended budget bill include the state trooper raise, CPS raise, and the per diem freeze. Compromises were made with the Save the Children's Fund, Tax Division budget, and Marshall University funding.  The surplus compromise was a $1 million surplus. Of the general revenue fund, 44 percent goes to public education, which includes the teachers' pay raise, 26 percent goes to social services, including the CPS raise, and 10 percent to higher education.
State agencies receiving funding from the special revenue fund are not included in the pay raises. These include Highways, the public service commission, the DEP, and the Department of Agriculture.
The debate on the budget bill lasted about two hours with several members expressing concerns with the changes from the adjustment letter.
Speaker Hanshaw spoke to the budget bill.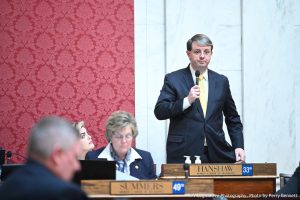 "I'm going to support the motion. I hope you do as well because as the gentleman from the 34th said, I believe the good outweighs the bad. It's not the budget I would have written unilaterally, it may not be the budget you would have written unilaterally, probably was not the budget the Chairman would have written unilaterally, but it's where we are. It's a budget that those three parties who make up the governing body of West Virginia agree should be our spending priorities for Fiscal Year 2023."
The House concurred to complete the budget, 90-9.
The House received Senate messages, concurring with most. However, the House did refuse to concur with House Bill 4087 and House Bill 4389.
The House also passed Senate Bill 468 before recessing.
Senate Bill 468 creates the Unborn Child with Down Syndrome Protection and Education Act. The bill prohibits an abortion before confirming and documenting the abortion is not sought because of a disability except medical emergency or severe fetal condition. A few amendments were offered and rejected.
The House is in recess until 4:25 p.m.