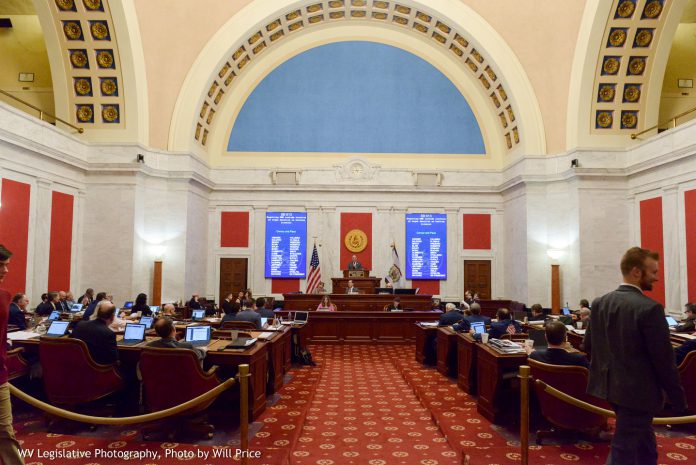 As of Friday, January 17, 2020, 534 bills have been introduced to the Senate. Of those bills, seven have passed to the House for further consideration.
SB 16 creates the Protect Our Right to Unite Act. This protects the rights of individuals to privately assemble with advocacy groups that represent that person's beliefs. The bill declares that compelled disclosure of an advocacy group's membership lists or donors trespasses on freedoms provided by the Fourteenth Amendment.
SB 35 would limit the civil penalty for littering to $2,000 or less
SB 42 allows county boards of education to permit faith-based electives in drug prevention programs in schools. This is part of legislative efforts to educate public schools on drug abuse prevention and violence reduction.
SB 46 would declassify pepper spray as a deadly weapon and allow all persons over 16 years of age to carry it in the West Virginia Capitol building. Senator Rucker of Jefferson county proposed that the bill be amended to limit the amount of pepper spray allowed in the Capitol to 1 oz or lower, since this was not specified in the original draft of the bill
SB 94 purpose is to provide people with disabilities with the ability to vote via electronic absentee ballot. Under the bill, qualifying voters would automatically receive access to the electronic absentee ballot without having to reapply.
SB 96 would prohibit municipalities from placing limitations on the right to purchase, transfer, possess, sell or carry deadly weapons or pepper spray in any way that conflicts with state laws. The bill would also restrict the award of reasonable attorney costs to petitioners seeking redress under this law, to only those who succeed.
SB 140 would grant judges of the Supreme Court and circuit courts an allowance as compensation for having to travel certain distances in their own vehicle.
SB 161 purpose is to improve the repair and maintenance of state highways and roads. This bill will initiate the Enhanced Road Repair and Maintenance Program, as well as the Special Road Repair Fund.
SB 170 would alleviate double taxation on foreign income at the state level. The bill also sunsets the credit for income tax paid on foreign wages in 2069.
SB 207 would create the Prosecuting Attorney's Detectives Act. This bill would allow prosecuting attorneys to hire detectives, provide compensation for prosecuting attorneys' detectives, and establish the duties and powers of those detectives
SB 211 discusses unlawful discrimination covered by the Fair Housing Act and the Human Rights Act. This bill will prohibit discrimination in employment and public accommodation places towards people based on their sexual orientation or gender identity.
SB 230 discusses suicide prevention in schools. The bill would require the State Board of Education to provide all professional educators, including administration and staff in contact with students, with instruction on recognizing warning signs and resources for student suicide prevention
SB 248 would repeal law that requires additional registration fees on vehicles that use alternative fuels, a topic which has been considered controversial among West Virginia drivers.
SB 284 would create the "Health Care Continuity Act". The purpose of this bill is to reinforce the standards of healthcare coverage plans, make sure they remain affordable, and aren't defined by the existence of preexisting conditions. The bill has been referred to the Senate Committee on Banking and Insurance.
SB 303 would initiate the "Students' Right to Know Act". The bill would require the state Board of Education to collect and communicate information on career landscapes for high school students. The purpose of the bill is to make students more aware of the costs of four-year colleges as well as alternative career paths. The bill has been referred to the Senate Education Committee.
SB 310 updates certain technical details of WV code, update the meaning of federal gross income, specify specific dates, and updates terms in the West Virginia Personal Income Tax Act.
SB 314 would require insurance policies to provide certain emergency allergy medicine to persons 18 years or younger. The medication, injectable epinephrine, would come at no cost for the individual as long as the medication has been prescribed
SB 317 would create the Board for Professional Geologists. The Board would present rules for legislative approval, representing various geological interests in West Virginia
SB 499 would work to eliminate barriers for employment to people with criminal records. The bill would make licensure and certifications less difficult to obtain for a person with a criminal record, though certain restrictions apply. The bill lays out criteria for commissioners for license approval and removal.
SB 504 provides that forensic evidence in sexual assault is collected, submitted, tested and processed in a timely manner. The bill states that sexual assault forensic examination kits must be collected by healthcare providers and sent to the WV State Police Forensics Lab