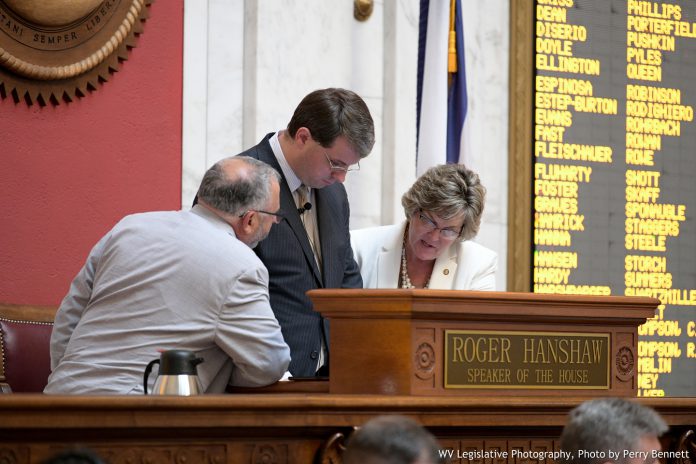 As of Friday, January 31, 2020, there have been 1,198 bills introduced in the House and 53 bills have been passed and now are before the Senate.
House Bill 2419 modifies bail requirements. The bill requires a court or magistrate to release a person charged with certain misdemeanor offenses on his or her own recognizance except for good cause shown. The bill also sets exceptions when a person may not be released on his or her own recognizance.   The bill also sets conditions that may be attached to release on bail that may be considered by the judicial officer.
House Bill 2877 prohibits public entities from charging a fee for parking, such as a parking meter, in an accessible parking space that bears the international symbol of access.
House Bill 4030 increases the age limit for an application for appointment as a firefighter to 40 years of age for honorably discharged veterans of any branch of US Armed Forces or National Guard.
House Bill 4094 relates to continuing and establishing new duties of the Foster Care Ombudsman (FCOP). The bill creates access to foster care children and records, establishes the confidentiality of investigations by the FCOP, and creates misdemeanor offenses for willful interference with an FCOP investigation.
House Bill 4476 provides for the timely and efficient collection, submission, testing, retention, and disposition of forensic evidence in sexual assault cases. The bill transfers some duties of the Division of Justice and Community to the Division of Administrative Services. Additionally, the bill requires sexual assault kits collected by health care providers to be directly submitted to the West Virginia State Police Forensic Laboratory. The bill establishes procedures, defines terms, grants rule-making authority, and creates misdemeanor penalties.
House Bill 4026 exempts businesses relating to transporting scrap tires, waste tires, or other used tires to storage, disposal, or recycling locations from certain statutory Public Service Commission provisions. The bill exempts motor vehicles operated under a contract with the West Virginia Department of Environmental Protection exclusively for cleanup and transportation of waste tires and solid waste generated from state authorized waste tire remediation or cleanup projects from those statutory Public Service Commission provisions.
House Bill 4353 removes barriers to employment for individuals with criminal records who seek licensure or certification in an occupation governed by state laws, with certain exceptions.
House Bill 4496 reduces the price of insurance coverage for the Department of Corrections in Rehabilitation from $1.25 million to $1 million. This aligns the insurance coverage for the Department of Corrections to match the rest of agencies in the state.
House Bill 4501 gives immunity to the commissioner and employees of a state correctional agency in a civil or criminal case that may arise from the result of accepting an offender into a jail that refuses medical treatment. This bill only protects the commissioner or employee if the consequences from refusing medical treatment cause damage but does not provide protections in the case of a separate injury.
House Bill 4510 prohibits bodily intrusion by an inmate upon any person at any correctional facility and defining bodily intrusion for purposes of the section. This bill is specifically written to deal with inmate crimes against other inmates. This bill aims to fix a current problem in women's prisons across the state.
House Bill 2338 provides that an antique military vehicle is exempt from the requirement to display a registration plate if the exemption is necessary to maintain the vehicle's accurate military markings.  Upon proper application, the commissioner shall approve an alternative registration insignia for an antique military vehicle that is compatible with the vehicle's original markings. Nothing in this section exempts the operator of an antique military vehicle from the requirements set forth in existing code.
House Bill 4179 enacts the Recognition of Emergency Medical Services Personnel Licensure Interstate Compact. The bill provides several definitions and duties of the Interstate Compact.
House Bill 4359 provide a uniform definition of filing and set a flat filing fee regarding insurance forms, rules, and rates. The flat fee is $100.
House Bill 4381 extends the time for adopted children to obtain a lifetime hunting, fishing and trapping license. Legally adopted children are eligible for a license until their 12th birthday and have two years to obtain the license after the adoption.
House Bill 4470 clarifies that adults who commit a criminal offense while still in juvenile custody may not be held within the sight or sound of adult inmates. This bill clarifies preexisting code.
House Bill 3049 provides for more immediate broadcasting of boiled water advisories through local health departments and local emergency management 911 answering points, and directly to interested customers.
House Bill 4059 updates family planning services. This bill increases access to long acting reversible contraception, requires payment of long acting reversible contraception, requires certain contract provisions, requires training of heath care practitioners, prohibits certain policies, permits a health care practitioner to perform family planning at a local health department and updates terminology.
House Bill 4198 permits a person to obtain a 12-month supply of contraceptive drugs.
House Bill 4356 updates the credentials for a certified nurse anesthetist who cooperates with a physician or dentist.
House Bill 4434 requires a statewide study and report on the existing health care workforce, as well as the workforce needs of the next 15 years.
House Bill 4484 extends the annual certification fee for facilities that manage hazardous waste until June 30, 2025. The certification fee was set to expire this year in 2020. The revenues collected from this fee will be used for the Hazardous Waste Management Fee Fund.
House Bill 4600 includes a retiree beneficiary in calculating the distribution of insurance premiums for municipal policemen's or firemen's pension and relief funds.
House Bill 4601 allows members of a police or fire municipal pension plan participating in a deferred retirement option plan to be counted as active members for purposes of determining the distribution of premium tax proceeds.