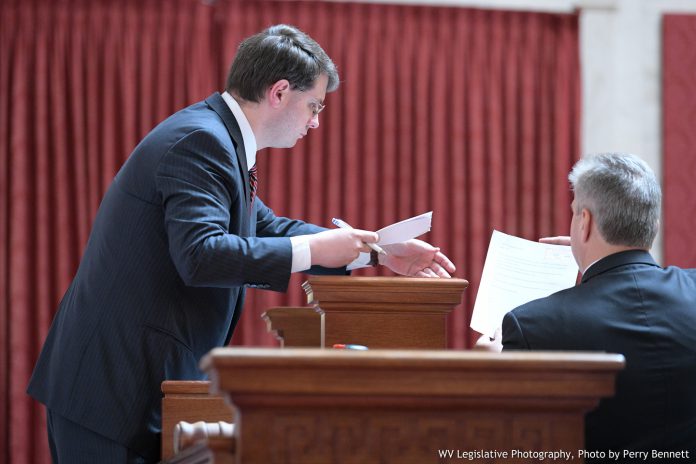 As of Friday, January 24, 2020, there have been 1,097 bills introduced in the House and 28 bills have been passed and now are before the Senate.
House Bill 4062 reduces the price of prescription drugs from single use manufacturers by redirecting the rebates from pharmacies directly to the insured consumer.
House Bill 2086 adopts the Uniform Real Property Electronic Recording Act. Any requirement of state law describing or requiring that a land record document be an original, on paper, or in writing are satisfied by a document in electronic form. Any requirement for signatures on the document can be satisfied by an online signature. This authorizes county and state clerks to accept, record and store electronic documents. This bill does not provide funding towards an electronic recording system. Multiple recording systems may be put in place across the state.
House Bill 4077 increases the amount of the bond required to be posted by proprietary schools, establish methods of bonding, and require suspension of a proprietary school's permit if there is not requisite bond coverage.
House Bill 4119 amends West Virginia Code to establish criminal penalties and defining terms for torture. Under the bill, torture is defined as the intent to cause cruel or extreme physical or mental pain and suffering, and the infliction of serious bodily injury or mental suffering upon another person within his or her custody or physical control.
House Bill 4417 permits different types of continuing education to qualify for completion of the drug diversion continuing education requirements. Under this bill, a board will develop continuing education criteria appropriate to its discipline, which will include course content, course approval, hours required and reporting periods.
House Bill 4419 requires a pharmacist to check the Controlled Substance Monitoring Database. This applies to all practitioners that prescribe or dispense Schedule II, III, or IV controlled substances.
House Bill 4058 updates the law regulating pharmacy benefit managers. This update states that a person or organization may not establish or operate as a pharmacy benefits manager in the State of West Virginia without first obtaining a license from the Insurance Commissioner pursuant to this section.
House Bill 4275 authorizes the Fire Commission to promulgate a legislative rule relating to State Building code. The Fire Commission is proposing an amendment to the State Fire Code that would update the code to reflect National Fire Protection Association standards. The updates relate to preserving life safety issues.
House Bill 4002 creates a felony of negligently and with a reckless disregard of the safety of others, delivering a controlled substance or counterfeit controlled substance for an illicit purpose and the use causes a death. Under this bill, a person convicted of this felony will be sentenced to a state correctional facility for a sentence no less than three and no more than 15 years.
House Bill 4393 creates the crimes of suffocation and asphyxiation. In this bill, the words "bodily injury," "strangle," "suffocate" and "asphyxiate" are defined. Any person who strangles, suffocates or asphyxiates another without that person's consent and causes bodily injury is guilty of a felony. The punishment for this crime is a fine of no more than $2,500 or imprisonment in a state correctional facility not less than one year and not more than five years. Those guilty of this crime could also be both fined and imprisoned.
Legislation on House Special Calendar
House Bill 4011 reorganizes the articles in the current Chapter 30, regarding licensing of professions and occupations, into three separate chapters arranged by duties and educational requirements, both prior to and following licensing.
House Bill 4129 provides that if a minor child to be adopted has been removed from a prior home due to an abuse or neglect proceeding, the petition for adoption may be filed in the same county as the original abuse and neglect proceeding. The bill eliminates a 45-day waiting period before a petition for adoption may be filed.
House Bill 4146 relates to credit for reinsurance. This bill allows a credit on an insurer's annual statement when reinsurance is yielded to an assuming insurer and the assuming insurer is licensed in a reciprocal jurisdiction; defining reciprocal jurisdiction; setting forth the criteria required regarding the credit for reinsurance; and requiring the Insurance Commissioner to create and publish a list of reciprocal jurisdictions and assuming insurers.
House Bill 4149 adds definitions relating to insurance. This includes words such as "holder," "incidental costs," "maintenance agreement" and "provider," and more.
House Bill 4166 prohibits certain sex offenders from being in a supervisory position over children. This bill also requires extended supervision for certain sex offenders, sentencing, conditions, supervision provisions and the supervision fee.
House Bill 4411 allows the final payment installment of a mortgage to exceed by a de minimis amount not to exceed five dollars more than any previous mortgage installment payment. This bill relates to the West Virginia Residential Mortgage Lender, Broker and Servicer Act
House Bill 2497 clarifies protections under the state's whistle-blower law. This bill protects discriminatory or retaliatory actions against employee whistleblowers from their employers. The bill also defines civil action by whistle-blower for violations in civil proceedings.
House Bill 4089 requires cursive writing to be taught in grades 3-5.
House Bill 4365 authorizes state institutions of higher learning to grant college credit to students who have learned English as a second language.
House Bill 4480 authorizes legislative rules of the Higher Education Policy Commission, repeals a rule of the Higher Education Policy Commission and authorizes a legislative rule for the Council for Community and Technical College Education.