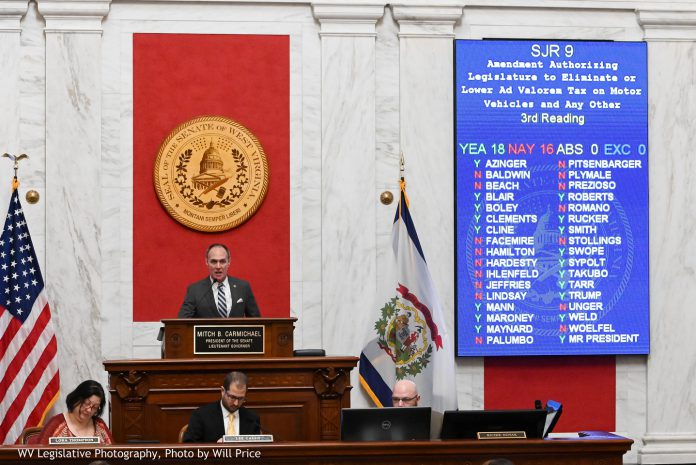 As of Friday, January 24, 2020, 623 bills have been introduced to the Senate. Of those bills, 20 have passed and advanced to the House for further consideration.
SB 16 creates the Protect Our Right to Unite Act. The purpose of this bill is to protect the privacy of people's membership in a public agency.
SB 42 allows county boards of education to include faith-based electives in drug and violence prevention programs in schools.
SB 125 will prohibit victims in sexual assault cases from undergoing certain physical examinations. The bill was made to protect the privacy of these individuals and the argument was made that such examinations may not be sufficient for evidence in their case.
SB 144 makes it a misdemeanor to obstruct an officer of the law during an investigation. The bill establishes a penalty for this action.
SB 191 makes aggravated cruelty to animals a felony offense. The bill clarifies the different instances of animal abuse and specifies the civil penalties.
SB 217 requires the Department of Health and Human Resources to collaborate with the Workforce Development Board and the WV Division of Personnel for job placement.
SB 225 allows municipalities to enact Adopt-A-Street programs. These programs would encourage public awareness of littering by hosting volunteer-lead cleanups of streets.
SB 297 requires the Board of Education to create a course on family and consumer sciences in schools. Such courses would encourage independence and prepare students for everyday tasks such as cooking, house cleaning, home repair, budgeting, and time management.
SB 307 corrects a citation of code relating to tax liens.
SB 311 would make state and political subdivisions immune to liability for injury to people who perform voluntary community service ordered by a municipal court or magistrate.
SB 321 clarifies conflicts in the WV Code relating to tax collection and distribution.
SB 322 will allow for services to be bought by state contractors through prequalifications with prequalified vendors.
SB 323 authorizes Department of Administration to promulgate rules relating to legislation.
Legislation Still Under Consideration in the Senate
SB 51 updates visitation rights for grandparents. The bill allows daytime visitations, overnight visitations, and electronic communication.
SB 230 discusses suicide prevention in schools. The bill would require the Board of Education to provide instruction to school staff on suicide awareness and prevention. The guidelines would be determined by the state board.
SB 470 allows bolts and arrows 16 inches or larger with a broad head to be used for hunting in West Virginia. The crossbow must also have a working safety and a minimal draw weight of 125 lbs.
SB 501 adds the protection, operation, and maintenance of Elk River Trail as part of the Parks and Recreation Section of the West Virginia Division of Natural Resources.
SB 509 would work to provide venue for custody allocation actions in situations that do not involve divorce. This would primarily apply to family situations in which the parents of a child were never married.
SB 522 relates to compensation awards to victims of crimes. The bill provides juvenile victims of abuse and neglect cases services not provided by Medicaid or other resources.
SB 529 establishes a time limit for claimants to fine claims against the state for unjust arrest, wrongful convictions, and wrongful incarceration. It also establishes a 10-year claim limit for claims benefits and limits damages under certain conditions.