Delegates Focus on Changing Some Prohibition Era Laws
Several bills proposed and advanced by House committees this week are focused on changing alcohol laws in the state. The goals of these bills are to promote new industries, attract tourists, and boost the state economy.
House Bill 4524 permits the sale of alcohol for off-site consumption in all areas of the state. The purpose of this bill is to make the state "wet." There are "dry" areas within the state that do not permit the sale of alcohol. These areas have been dry since the prohibition era in the 1920s.
There are currently 13 counties within the state that are either entirely dry or have dry cities and towns within them.
Delegate Steve Westfall, R-Jackson, is the lead sponsor for House Bill 4524.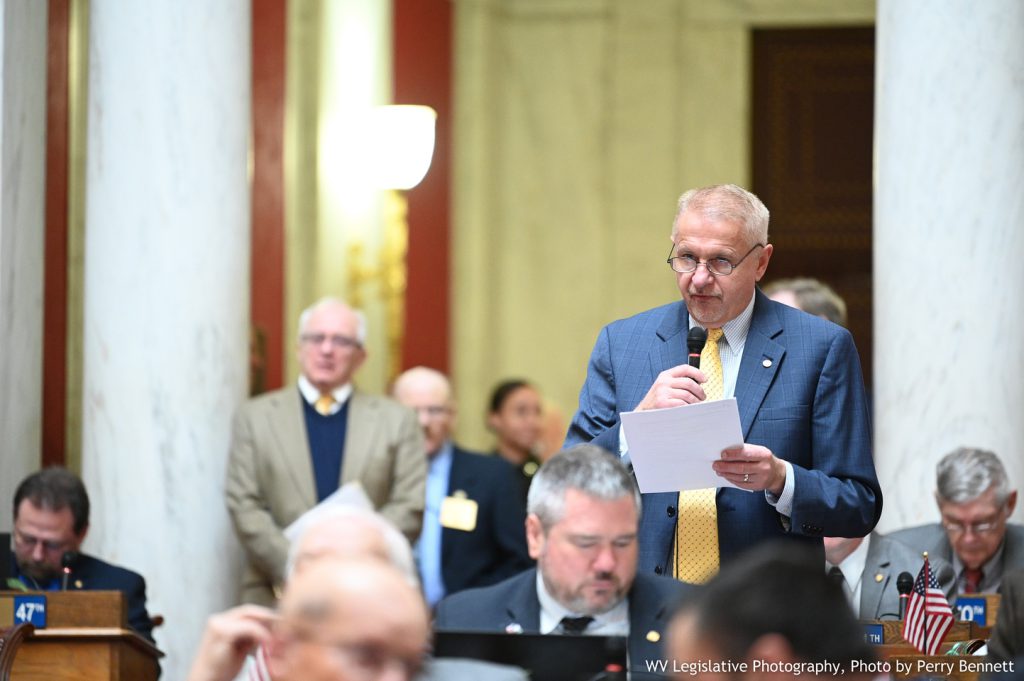 Westfall believes that this bill will have a positive effect on tourism within the state, specifically in the four-season resort of Snowshoe in Pocahontas county. Pocahontas county is a dry area, excluding the town of Durbin and the city of Marlinton. Tourists visiting Snowshoe mountain have to drive 30 minutes to Marlinton if they wish to purchase alcohol for their visit.
"While this doesn't completely discourage tourism, it might be a reason people choose not to return," he said.
Tourists come to Snowshoe from states all across the country.
"We want these tourists to keep coming back," Westfall said.
This bill states that counties do have the option to stay dry. After reaching out to several dry counties and comparing this legislation to previous successful bills of a similar nature, Westfall does not believe that any of the areas will opt to stay dry. Under current law, counties can opt to sell alcohol, but this new legislation allows for counties to opt not to.
"This bill gets us out of the 1920s prohibition mentality and gets us to where we need to be in 2020," he said.
House Bill 4524 was read a first time Friday.
Delegate Jason Barrett, D-Berkeley, is the sponsor of many of these bills, including House Bills 4159 and 3149. Barrett believes these bills will benefit the people living in his district in the Eastern Panhandle and across the entire state.
House Bill 4159 reduces the tax rate on alcoholic apple cider by reclassifying it in code.
Currently, hard cider is taxed at the same rate as wine due to the similar fermentation process it goes through. However, alcoholic cider has a similar alcohol content of beer, which is taxed at a significantly lower rate. Once hard cider is reclassified it will be taxed at a rate in between wine and beer.
This bill intends to facilitate the growth of the cider industry in West Virginia. In the United States, national cider sales have grown an average of 73% each year over the past five years. West Virginia has the potential to be a big contender in the industry. The current tax rate is a barrier that prevents people from starting up a business in the industry. This legislation reflects a successful program that our neighboring state, Virginia, passed a few years ago. Their growth reflects the standard of the national average.
The bill also creates an Agriculture and Development Fund using the money from the cider tax to further facilitate growth. The money in the fund will be used to grow apples and other fruits needed to produce cider.
House Bill 4159 was advanced out of the House Government Organization Committee and now goes before the House Judiciary Committee before being reported to the full House.
House Bill 3149 focuses on permitting a wine manufacturer to serve full pours of wine at festivals for which it is properly licensed. The bill also includes that the commissioner may issue special one-day licenses to nonprofit corporations allowing the sale and serving of wine.
Barrett says that this will greatly benefit the Martinsburg Wine Fest, which is held annually and attracts thousands of people each year from across the state and surrounding areas.
"The goal here is not just to expand our alcohol laws – it's to promote tourism," he said. Barrett says that this legislation will attract out-of-state wineries, who will be able to purchase these one-day permits to sell at festivals. Under this bill, one-day licenses will cost $100.
"Some people have the mindset that we should build a wall around West Virginia and keep other states out," he said. "By expanding and letting others into our state, we will see benefits in the economy and tourism industry."
House Bill 3149 will be examined first by the House Finance Committee to discuss the fiscal implications of the bill.
Committees in the House have also advanced House Bills 4663 and 4158, both relating to alcohol laws.
House Bill 4663 eliminates certain payments to the Alcohol Beverage Control Commissioner from distilleries and mini distilleries that the commissioner distributes to market zone retailers. Currently, all distilleries in the state must pay a 2% fee to the ABCA that is then distributed to market zone liquor retailers, even if the distillery doesn't sell their product on store shelves. This bill would exempt distilleries from this fee if their products are sold only on-premises.
House Bill 4158 permits people of the legal drinking age to manufacture alcoholic liquor for personal or family use. It's legal to manufacture wine and beer for home use currently, but this expands this law to include liquor. Federally, current criminal penalties for this are punishable by up to five years in prison and a $10,000 fee. This bill decriminalizes the action under state law.