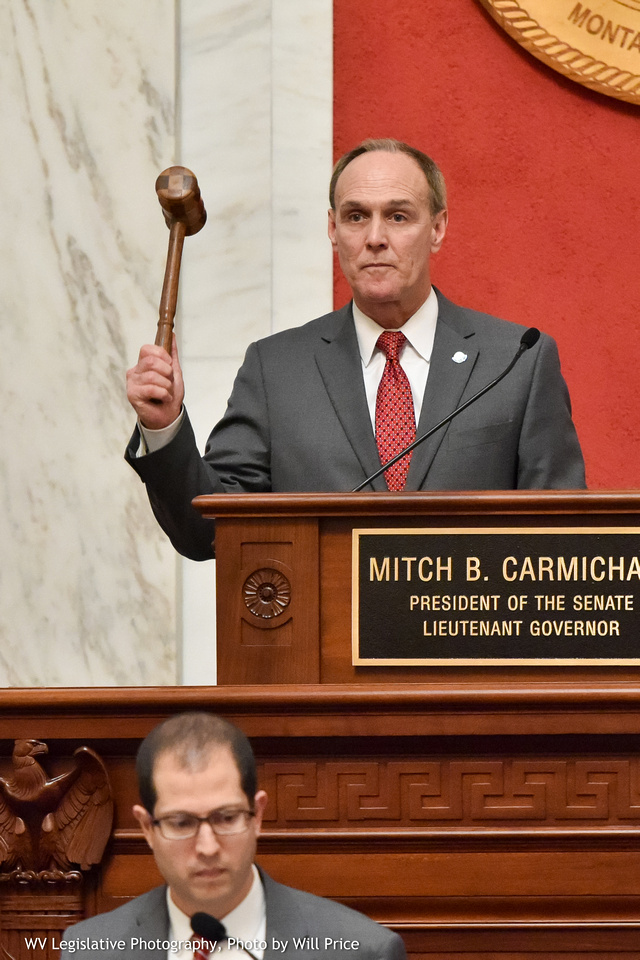 As of February 7, 2020, 737 bills have been introduced to the Senate. Of those bills, 73 have advanced to the House for further consideration.
SB 190 requires that in order for counties to receive 2% of the terminal income from racetracks, the racetrack must have participated in the WV Thoroughbred Development fund since on or before January 1999.
SB 240 requires restaurants, hotels, and other food services to secure manhole covers for grease traps that are either outdoors or areas accessible to the public. The covers should be able to withstand expected loads and be kept out of the reach of children.
SB 267 creates a new criminal offense for failing to return conversion of leased or rented personal property.
SB 281 eliminates the residency requirement for individuals applying for reappointment to a municipal police department.
SB 300 updates terms in the WV Corporation Net Income Tax Act to match the meaning of the Internal Revenue Code's definitions.
SB 308 addresses criminal penalties for persons who violate a protective order for financial exploitation.
SB 316 eliminates the requirement that one governor-appointed member of the Oil and Gas Conservation Commission have a degree in petroleum engineering or geology and be a registered professional engineer.
SB 482 removes the requirement that an individual have a permit to store a handgun in their vehicle on school property.
SB 510 makes permanent a land reuse agency or municipal land bank's right of first refusal on certain tax sale properties. The bill expands the circumstances for when the right of refusal may be used, and clarifies the provisions relating to the right of first refusal.
SB 511 regulates pawnbrokers to prevent the accidental sale of stolen property and to help the police in investigations for tracking down stolen property. The bill provides that pawnbrokers possess proper equipment for surveillance and other measures for tracking inventory.
SB 534 eliminates the Workers' Compensation exclusion for employees serving the Legislature either temporarily or in support of the legislative session. The purpose of this bill is to bring state law into compliance with federal law.
SB 544 authorizes the Board of Pharmacy, the Board of Osteopathic Medicine, and the Board of Medicine to create rules to be approved by the legislature, allowing pharmacists and pharmacy interns to administer vaccines.
SB 547 corrects a conflict with the Federal Unemployment Compensation and Social Security Administration laws regarding an individual's opportunity for a hearing for unemployment compensation claims that are denied.
SB 551 creates the Water and Wastewater Investment Facilitation Act. This expands the uses to which a municipality may apply the proceeds of selling or leasing public utilities such as gas, wastewater, or electricity.
SB 552 requires contracts of $25,000 or more to be bid competitively.
SB 560 permits trained individuals under the supervision of a registered nurse to administer medication in nursing homes.
SB 620 authorizes the Division of Corrections and Rehabilitation to approve home plans for inmates. The commissioner is to establish a nonviolent offense parole program, and to create the criteria for eligibility for such a program.
SB 625 creates a one-day annual license to allow for the charitable auctions of rare or antique sealed liquors in private clubs, so long as other code sections regarding the sale of alcohol are not violated.
SB 629 clarifies alcohol volume percentage for certain wines. The bill clarifies that wine can be sold by a wine specialty shop for consumption off-premises only except where tasting and sampling have been permitted. The bill also removes the bonding requirement for suppliers and distributors, and continues the penalties for a distributor or supplier who does not pay taxes.