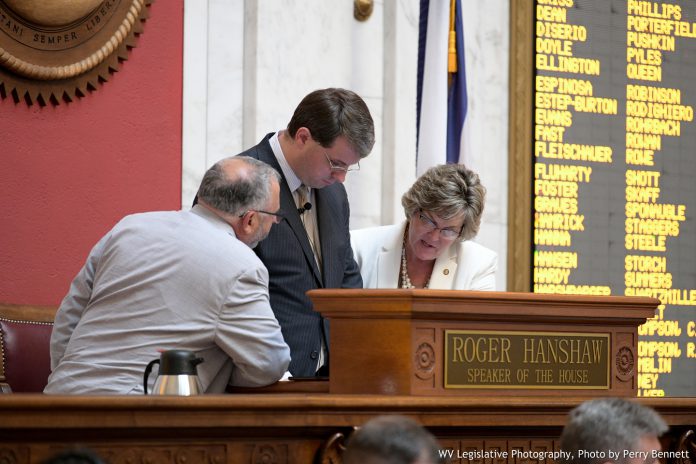 As of Friday, February 14, 2020, there have been 1,509 bills introduced in the House and 117 bills have been passed and now are before the Senate.
House Bill 2527 sets criminal penalties for forgery or other crimes concerning lottery tickets. Those guilty of this felony shall be fined up to $1000 and be imprisoned in a state correctional facility for a sentence of one to five years.
House Bill 4582 provides payments to certain vendors that the state owes money to, because the agency reached its budget limit.
House Bill 4611 relates generally to fireworks; reducing certification fees for both temporary and permanent retail sales locations for fireworks and requiring the State Fire Marshal to establish a procedure that allows a fireworks retailer to combine and pay all applicable fees in a single payment.
House Bill 4618 allows for the public display of deadly weapons for sale, for example in a window of a shop for advertising purposes. The bill includes any deadly weapon, machine gun, fully automatic weapon, rifle, shotgun or ammunition for sale.
House Bill 4661 permits a natural gas utility to make a proposal to the Public Service Commission for incentivized gas drilling where dependable, lower-priced supplies of natural gas are not readily available. The bill permits a natural gas utility to recover the cost reasonably necessary to convert a customer to an alternate fuel source when gas service to that customer has been abandoned. The bill permits natural gas utilities to recover those conversion costs.
House Bill 4691 creates greater provisions for school systems to recruit and employ newly graduated and substitute teachers in areas of critical need. The bill extends the date upon provisions relating to the employment of retired teachers for areas in critical need until June 2025.
House Bill 4069 creates the West Virginia Student Religious Liberties Act. This bill provides that public school districts cannot discriminate against student's religious beliefs. Students may express their religious views in schoolwork and pray during the school day without being penalized or rewarded. The bill also sets parameters for speakers at non-graduation and graduation events. This legislation cooperates with standards set forward by the federal government and the United States Constitution.
House Bill 4178 requires that calls for emergency service which are recorded be maintained for a period of five years.
House Bill 4478 bars a commercial driver who has been convicted of a felony involving "severe forms of trafficking in persons" from holding a commercial driver's license for life.
House Bill 4544 makes the provisions of the current law applicable to persons 18 years of age or older who are convicted of distribution of a controlled substance within 200 feet of public library in this state.
House Bill 4551 defines criteria for continuing to receive an adoption subsidy when the adopted child is placed out of the home. The bill establishes an enhanced definition of the "support" requirement codified in the Federal Social Security Act. The bill also provides mechanisms for reducing the subsidy for families with children in long-term residential placement.
House Bill 4576 establishes a procedure for correcting obvious errors in deeds, deeds of trust, and mortgages, and establishing a format for the corrective affidavit and notice of an intent to correct an obvious description error.
Senate Bill 16 create the Protect Our Right to Unite Act. The bill relates generally to protecting an individual's constitutional right to privacy in association.
Senate Bill 35 limits the civil penalties for littering to $2,000 and sets a minimum fine to $200.
Senate Bill 46 defines "pepper spray" and exempts pepper spray from the definition of "deadly weapons" where it used to be classified as.
Senate Bill 300 updates the meaning of federal taxable income and certain other terms used in the West Virginia Corporation Net Income Tax Act.
Senate Bill 310 updates the meaning of federal adjusted gross income and certain other terms used in the West Virginia Personal Income Tax Act.
Senate Bill 321 creates uniformity relating to the collection of taxes, the priority of distribution of an estate, and to limit the liability of a fiduciary charged with distribution of the estate.
Senate Bill 449 authorizes certain agencies of the Department of Commerce to promulgate legislative rules.
Senate Bill 470 specifies rules and measurements for crossbow hunters. The crossbow must have a minimum draw weight of 125 pounds, have a working safety, and must be used with bolts and arrows at least 16 inches in length.
Senate Bill 487 creates an exception to the requirement that Division of Natural Resources payments be deposited in bank within 24 hours.
Senate Bill 500 removes the requirement for applicants for a Class Y special crossbow to provide written release authorizing examination of all medical records regarding qualifying disability.
Senate Bill 501 adds protection for the operation of North Bend Rail Trail, Greenbrier River Trail, and Elk River Trail to Parks and Recreation Section of the Department of Natural Resources.
Senate Bill 532 provides for the distribution of the assets remaining in a municipal policemen's or firemen's pension and relief fund upon the death the last remaining retiree or beneficiary receiving benefits under the fund.
Senate Bill 676 permits fees from the Central Abuse Registry to be used for costs relating to information technology support and infrastructure. The bill permits the term "criminal recording keeping" to include data creation.