During the 2021 Session, COVID-19 is mentioned every day in one way or another. While case numbers are beginning to decrease, West Virginia is passing legislation that came to forth due to COVID-19.
A year ago, the state was just starting to hear of a potential lockdown. The Governor put a "Stay at Home" Order in place and non-essential businesses were closed. Working from home became the normal for people across the state and broadband access became essential.
"It's the single most important thing we can do this year, given the COVID-19 pandemic," Delegate Daniel Linville (R-Cabell) said. "It was important long before that. This is 21st-century infrastructure. This is something we've got to do and do it now."
House Bill 2002, which has passed from the House to the Senate, would set the framework for an expedited broadband expansion throughout West Virginia. The bill codifies the Office of Broadband. It also sets reporting requirements for any company receiving federal or state funding for broadband expansion.
During this time, non-emergency medical treatments were limited, and appointments were not held in person. Many West Virginians had their first experience with a telehealth appointment. Senate Majority Leader Tom Takubo (R-Kanawha)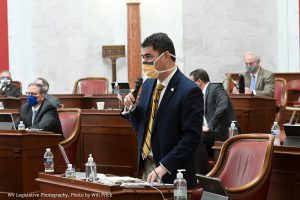 states that telemedicine defines three pathways for healthcare delivery using technology. Those pathways are acute care, comprehensive care, and care from specialists.
"The telemedicine bill is one the most revolutionary bills in terms of affecting healthcare in West Virginia," said Takubo. "It is my firm belief that this legislation will transform how medicine is rendered for decades to come and will literally save lives across our state."
This year the West Virginia Legislature moves to expand telehealth with House Bill 2024.The bill would allow out-of-state licensed health care professionals to practice in West Virginia when registered with the appropriate board. House Bill 2024 also expands telehealth to include audio calls. The bill has passed to the Senate.
In the last year, small businesses, especially those providing alcohol, saw major setbacks. House Bill 2025 passed from the House to the Senate. The bill addresses the societal requests which came to fruition during the lockdown., including new alcohol licenses.
"A lot of bipartisanship went into the House Bill 2025 We had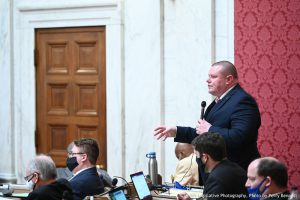 several conversations with the industry," Government Organization Chair Brandon Steele (R-Raleigh) said. "The bill codified what was already working for the industry."
The bill also enables businesses to begin the sale of liquor, wine, and beer at 6 am. It allows for the ability to offer sealed liquor drinks, beer, and wine with food orders via telephone, mobile app, or web-based software.
"We're excited to codify COVID relaxations to help small businesses in our state like breweries, distilleries, restaurants and bars," Delegate Kayla Young (D-Kanawha) said. "Not only do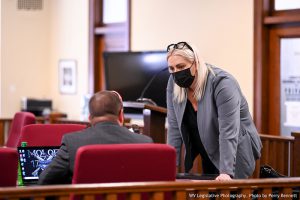 they help at a time these businesses need it most, but these expansions will also permanently grow revenue, quality of life, and tourism here in West Virginia."
In an age where in-person commerce is difficult, e-commence is becoming increasingly important to the state. Senate Bill 280 requires all political subdivisions to offer online payment options by March 1, 2023. The bill authorizes the State Treasurer rules to establish the system and offers the Treasurer may provide exemptions. The legislation is complete and has been sent to the Governor.
The Senate also offered bills to allow for other online services. Senate Bill 343 allows the DMV to process driver's license and ID card renewals or reissue online due to address changes. Senator Bill Hamilton (R-Upshur) received calls from several nonprofit organizations, who have not been able to hold fundraising events. To provide a solution, he introduced Senate Bill 263, which allows for charities and public service organizations to offer online raffles.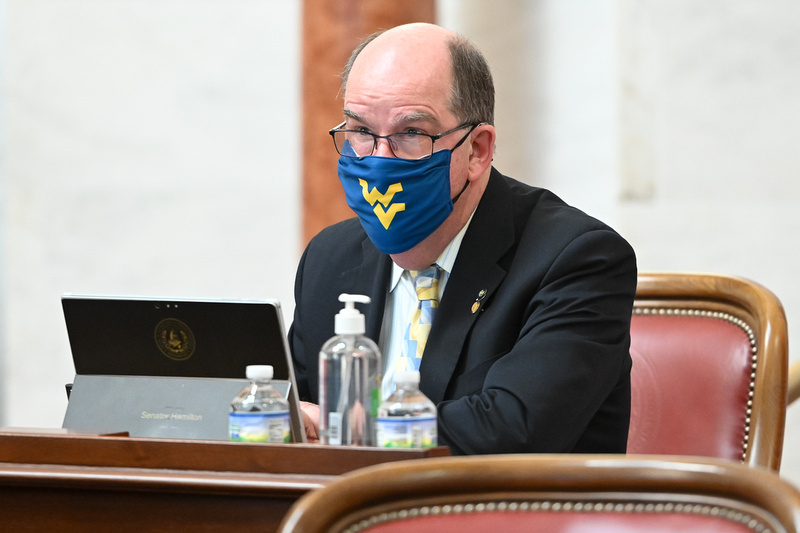 "This bill will benefit a large segment of the state's nonprofit population. It will help provide them with the revenue they need to fund community projects," said Senator Hamilton.