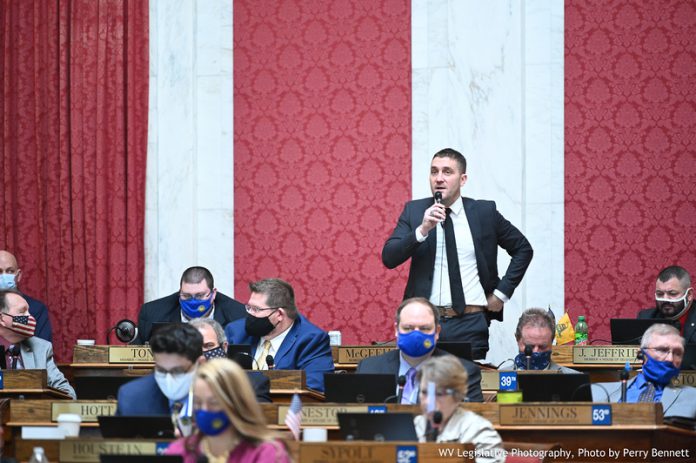 As of Friday, March 12, 2021, 1076 bills have been introduced to the House. Of those bills, 54 have passed and advanced to the Senate.
House Bill 2257 requires extended supervision for certain drug offenders.
House Bill 2335 increases the penalty for a driver who under the influence causes the death of a minor.
House Bill 2363 "Best Interest of the Child Protection Act of 2021," establishes initial custody arrangements to be 50/50 between the parents. To change the 50/50 split, one parent must prove the other parent to be incompetent, neglectful, or abusive.
House Bill 2507 removes limitations on advertising and promotional activities by limited video lottery retailers. The bill advances to the Senate.
House Bill 2598 changes the definition of an above ground storage tank, specifically brine storage tanks.
House Bill 2621 mandates certification for certain members of fire departments and requires training. It also allows for specialized personnel who are not firefighters to be members of a department.
House Bill 2671 updates the financial exploitation statute. It clarifies civil complaints and petitions proceedings for financial exploitation protective orders. It also includes potential criminal penalties for violating the protection orders.
House Bill 2674 codifies current practices by updating the required credentials for certified registered nurse anesthetists who cooperates with a physician or dentist
House Bill 2701 approves the Division of Rehabilitation Services to approve acceptable training programs required for low vision individuals to obtain a Class G drivers license.
House Bill 2709 provides that the aggregate liability of a surety on a consumer protection bond under the West Virginia Fintech Regulatory Sandbox Program does not exceed the principal sum of the bond.
House Bill 2722 prohibits the use of class B fire-fighting foam for testing purposes if the foam contains a certain class of fluorinated organic chemicals. The bill does make exceptions for fire prevention and in case of emergency.
House Bill 2764 allows the Division of Financial Institutions to enter into reciprocity agreements with other jurisdictions that operate similar programs to the West Virginia Fintech Sandbox Program.
House Bill 2765 allows airport emergency management and operations vehicles to use red flashing warning lights.
House Bill 2852 changes the mandate for the Department of Education to distribute before September 1 to by December 31 60 percent of the county's share of the allowance for increased enrollment. The bill does allow for the counties to request an advance on the share they expect to receive on December 31, however it cannot exceed 60 percent of their share of projected increased enrollment.
House Bill 2905 repeals the prohibition of using the word "Doctor" in advertising without defining what kind of doctor the individual is.
House Bill 2906 increases the School Building Authority's discretion for maintenance spending to 10 percent on multi-county vocation schools.
House Bill 2957 repeals sections of outdated code.
House Bill 2958 repeals sections of outdated code.