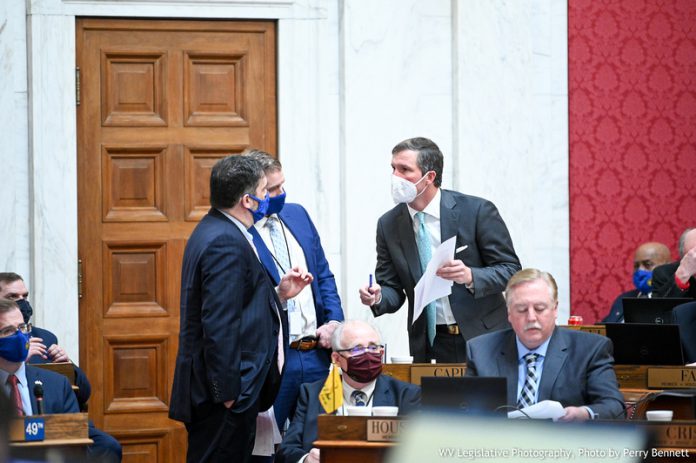 As of Friday, March 5, 2021, 914 bills have been introduced to the House. Of those bills, 35have passed and advanced to the Senate.
House Bill 2002 sets the framework to support, encourage and expedite broadband expansion in West Virginia. It codifies the Office of Broadband.
House Bill 2013 creates the Hope Scholarship Program, which provides funds to eligible recipients for personal education accounts to be used for qualifying education expenses, for example, private or homeschooling.
House Bill 2024 expands the use of telemedicine to all medical personnel.
House Bill 2025 provides liquor, wine and beer licensees with some new concepts developed during the State of Emergency utilizing new technology to provide more freedom to operate safely and responsibly. The bill allows for alcohol sales to begin at 6 am and the ability to offer sealed liquor drinks. The bill creates several new licensees including, permits for in-vehicle delivery. outdoor dining and outdoor street dining when authorized by a municipality for beer, wine and liquor, license for a private caterer to provide alcohol at a venue that is not license, private club license, private bar license, tennis club licenses, wedding venue or barn venue license and multi-vendor fair and festival license. The bill reclassifies hard cider as a wine, establishing a hard cider tax rate, and creates a new fund for the Agriculture Department to facilitate fruit production for use in hard cider.
House Bill 2093 allows WV veterans to utilize the services of medical foster homes approved by the US Department of Veteran's Affairs. It also exempts caregivers from duplicative background examination requirements of the WV CARES program.
House Bill 2265 provide legislative rulemaking to the Board of Pharmacy concerning collaborative pharmacy practice.
House Bill 2267 allows county boards of education to establish an optional bus operator in residence program for school district.
House Bill 2290 creates a state "Employment First" policy that encourages agencies to facilitate employment of disabled person. The bill establishes a task force to initiate these policies.
House Bill 2529 prohibits state higher education institutions from requiring alternative testing submissions from private, nonpublic, or home-schooled students for enrollment.
House Bill 2616 eliminates the submission of a report to the Governor and the Legislature, but requires information be made available on the Office of Health Facility Licensure and Certification's website.
House Bill 2791 requires county boards of education to permit students who are homeschooled or attending private schools to enroll at the county vocational school. The bill states no additional fees may be charged to the student other than those charged to the traditional student.